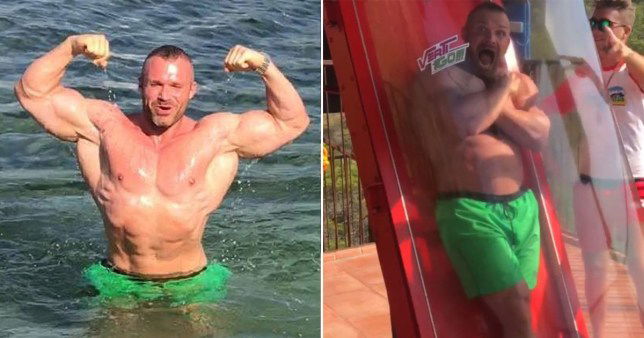 The 108ft Verti-Go slide in Benidorm, Spain has caught out a blagger and landed him with at least 14,000 GBP of court costs.
Ben Bardsley 38 a bodybuilder and gym owner was having a pond built in his back garden.
Whilst he was inspecting the works he was hit on the head by a digger carrying a bucket which knocked the bodybuilder into the pond.
He took the company supplying the pond to court and started a law suit against Warrington Koy & Aquatics at Manchester County Court following the accident in July 2015.
In his claim for damages and compensation he claimed for fear of heights, damage to his arms and back, claiming he could not lift weights and an extreme case of physiological damage mentally brought on by anxiety of all heights.
Aviva the insurance provider for the aquatic company were not having the tale though and instructed lawyers and private investigators to look into the claims.
The investigation first took to social media and didn't have to look very far as they quickly found blagger Ben Bardsley posing in Spain stood next to Benidorm's famous 108 foot water slide.
The blagger even went further, he posted a video of himself sliding down the Verti-Go attraction at the Costa Blanca resort in which he gives it the large one at the camera and goes into a muscles posing stance. In the video he shouts 'there's no queue for obvious reasons'  before he enters the slide  and flies down at more than 70 mph in just three seconds. As  he gets off  the slide, he jokes with a group of kids before pulling another muscles pose.
Arriva collated all the information and waited for the hearing at Manchester County Court last month, Bardsley told the County court his woeful tale, all about his severe injuries and fears of heights and how the incident had wrecked his life, and then the lawyers representing struck at played the video to the judge which totally exposed the blagger.
The judge dismissed the blaggers claim and ruled that Bardsley was guilty of 'fundamental dishonesty in respect of his claim' and ordered him to pay the defendant's legal costs of £14,318 leaving the blagger with a hefty bill.