THE PAWS-PATAS animal shelter volunteers have one major mission, to find 'forever homes' for the many cats and dogs they bring back to health or keep safe after being abandoned. Homing animals overseas plays a crucial part in this mission, and now the animal charity is seeking extra assistance.
Speaking at the recent PAWS-PATAS AGM, executive committee member responsible for the animal charity's overseas homing efforts, Renee Fortuin, explained she has found a new shelter in Germany. The German shelter is able to provide transport from Cartagena or Alicante, but PAWS-PATAS is in need of short-haul drivers to take animals to connect up with the German transport.
The charity has for some time been homing dogs in the Netherlands. Renee told the meeting that part of her role in relation to Holland is public relations, and that by attending animal-related events four times a year she has been able to promote awareness of the issues encountered in Spain. It has also given her the opportunity to recruit new volunteers and receive donations, as well to network with others to keep abreast with what is taking place in other parts of Spain.
"Although the impact of Brexit and homing in the UK is still unknown, it is anticipated that we will also need to arrange more transport to Holland; ideally we need a further four or five drivers to do the trip once a year", the charity's Chrissie Cremore told the Euro Weekly News.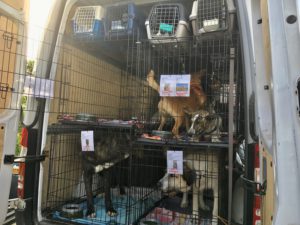 Further volunteer help is needed with 'foster homes' for animals which will be going overseas, Chrissie reported, as fostering them for one month helps socialise them and keeps them safe from any possible disease.
Anyone interested in fostering a cat or a dog short-term before a transport or longer-term should email [email protected] for dogs and [email protected] for cats. Anyone who can help with long or short-haul driving and who is able to help prepare the van with the relevant cages should email [email protected]. For all other volunteer information see the PAWS-PATAS website www.paws-patas.org or email [email protected]