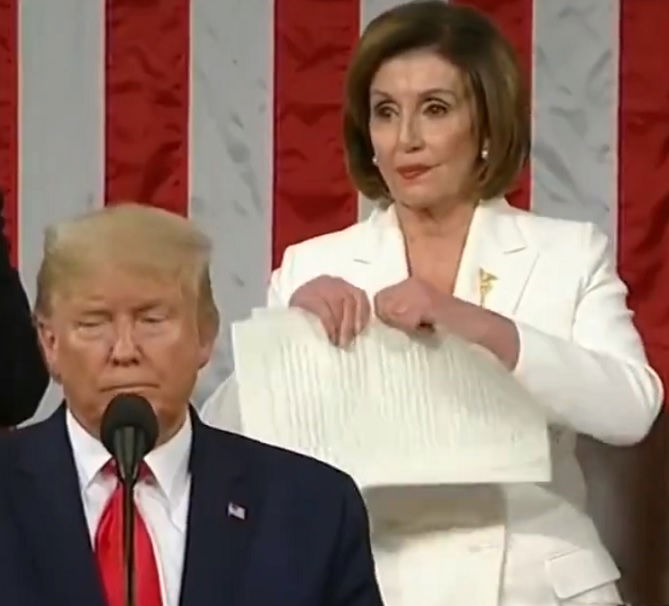 House Speaker Nancy Pelosi rejected Donald Trump's State of the Union address by ripping up her copy after he finished the annual speech – about 90 minutes after the president appeared to refuse to shake her hand.
The California Democrat sat just over his left shoulder during the speech, looking disgusted and disinterested as he mostly read it off a teleprompter. At times, she shook her head or waved a finger dismissively. Before the commander in chief had even left the dais, she tore pages of her copy into pieces and tossed it down in front of her.
A Pelosi aide confirmed that she said after leaving the House chamber she tore up the printed version of his remarks because it was "the courteous thing to do … considering the alternative". The speaker did not elaborate on what that meant.
She did, however, fire off a tweet defending her move, writing over a picture of Mr. Trump declining to shake her hand: "Democrats will never stop extending the hand of friendship to get the job done #ForThePeople. We will work to find common ground where we can, but will stand our ground where we cannot."
Standing before a Congress and nation sharply divided by impeachment, President Donald Trump used his State of the Union address to extol a "Great American Comeback" on his watch, just three years after he took office decrying a land of "American carnage" under his predecessor.