POLICE have arrested two men suspected of holding up 24-hour convenience stores in Almeria city and getting away with more than €2,000.
Police believe the pair are the two robbers who with their faces partially covered entered an establishment in Avenida Cabo de Gata in the provincial capital at around midnight. The thieves grabbed the female shop manager around the neck, one of them threatening her with a large screwdriver and the other with knife.
They got their hands on the cash register and made off with nearly €1,500 in cash.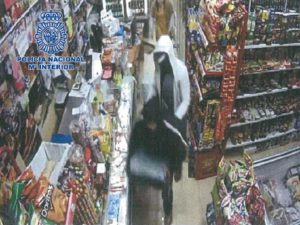 Two days later, and this time in the early hours of the morning, the thieves were in action again. On this occasion they got their hands on €550 from a business in Calle Instincion, but not before the shop employee put up quite a fight.
He whacked one of the robbers on the head with a metal tray and caused injuries to his nose and forehead. These were details which proved crucial to the subsequent identification and detention of the duo.
A patrol recognised the pair from the precise description given out by the investigating team and they were identified and arrested by uniformed officers in the street, one of the suspects still bearing the marks where the employee hit him with a tray.
Police named the two detainees as 24-year old A.A.M. and 37-year old A.C.V. They are being held in prison awaiting trial.