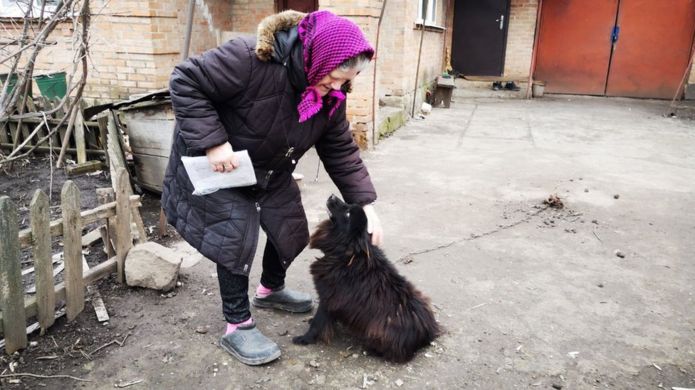 Ukraine's MPs advice to sell beloved dog causes outcry by the public.
pictures of pensioner and her beloved dog have flooded Ukrainian social media after an MP advised her to sell her pet, so she could pay her utility bills.
The saddened dog story began on Friday when Lyubov Kolyucha, 66, called in to the 112 Ukrayina TV channel, to complain that her small pension was not enough to live on.
But MP Yevgeniy Brahar's suggestion about how to raise the money led to jokes and memes, including one stating: "First they came for the dogs, and I did not speak out. Because I was not a dog."
Mr Brahar, 25, of the ruling Servant of the People party, later apologised on his Facebook page, saying he was a "novice in politics".
it appears that even if the dog were to be sold, it would still leave the owner in debt.
During the programme, where the county discuses inflation of utility bills since 2014, Mr Brahar expressed doubts about the extent of Mrs Kolyucha's poverty.
"If she has a dog of an elite breed, she can sell it … and easily pay her bills" Mr Brahar said on air.
The deputy's unexpected advice quickly caused outrage and multiple jokes on Ukrainian social media.
Mr Brahar finally apologised for his words. "I am a novice in politics and have not yet learned how to answer sensitive questions. I apologise to anyone who may have been offended by my words," he wrote on his Facebook page.