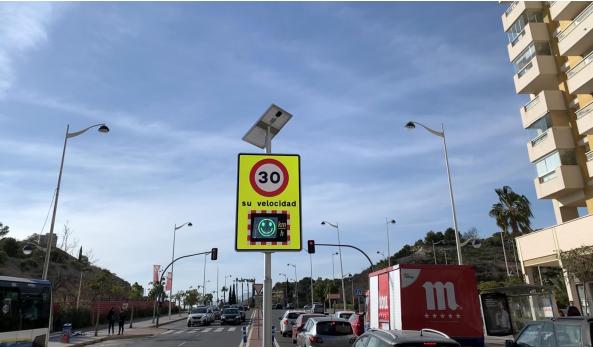 SMILING or frowning faces will let motorists know if they are driving at a safe speed or not following the introduction of a new type of warning sign.
Located in Avenida Vicente Perez Devesa, the radar is merely informative to give drivers a visual clue as to whether their speed is excessive or not.
Unveiling the new emoticon signs, Benidorm Mayor, José Ramón González de Zárate, said its operation is simple, 'a bright emoticon appears with a happy face if the driver is driving at the correct speed and an angry emoticon if speeding is detected'.
According to reports, in the first week of operation, the radar recorded infractions that exceeded 70 km/hr – more than double the 30 km/hr speed limit.
As such, it is hoped the new sign will 'correct' the behaviour of some drivers, particularly as it is close to Mediterranean IES school, which is attended by more than 1,000 pupils.
Emoticons have been used as they are 'easily identifiable symbols' by both driver and the rest of the occupants of the car – including the little ones – who can warn the driver of their speed.
González de Zárate warned that at the moment this radar is only informative, but the City Council is looking into installing more radars across Benidorm, 'which will have a sanctioning character'.