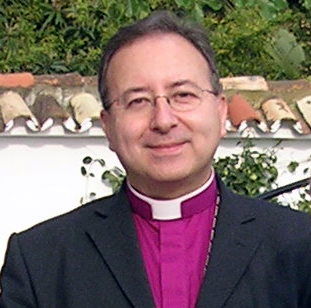 WITH changes to the structure of the Anglican Chaplaincy, St Peter and St Paul, Torrevieja there comes a personal message from Bishop David Hamid, Diocese in Europe.
"As the Church of England Bishop responsible for our work in Spain, I have been consulting with the Chaplain and Churchwardens of the Chaplaincy of Saints Peter and Paul, Torrevieja about the future shape of ministry in this significant parish. The pastoral area, which includes 7 centres of worship, is served by one full-time priest, Fr Richard Seabrook, who is assisted by some retired clergy and one lay minister.
The sustainability of the present pattern of 7 worship centres has been under review for some time now. After a full discussion, and with prayerful deliberation, the Church Council has decided that the time has come for a difficult decision to be made. It was decided that, effective from 26 January, the Church of England will no longer provide worship services in 4 centres in the Chaplaincy, Cristo Resucitado, La Manga, San Fulgencio and Campoverde. The members of the Chaplaincy Council voted overwhelmingly in favour of this decision, albeit with considerable sadness. The Council affirmed in its decision that members who, up to this point, have been associated primarily with one of these centres will continue on the electoral roll of the parish if they were so inscribed and that they will be most welcome to integrate into one of the remaining centres where worship continues: Lago Jardín, La Siesta and Los Balcones.
I will be meeting with the (Roman Catholic) Bishop of Orihuela-Alicante to inform him of this decision so that his own priests are aware of these changes. Bishop Jesús has been a faithful friend of the Chaplaincy, providing warm ecumenical hospitality, for which we continue to be very grateful.
The Church of England Chaplaincy receives no external funding whatsoever and is wholly reliant on the faithful giving of its members.  The Churchwardens and members of the Council are grateful for the support of all members of the Chaplaincy, and particularly for the dedicated work of so many whose work, stewardship and commitment sustain the life of the Church in the Chaplaincy. I am confident that in the years ahead, God will continue to bless our congregations in Torrevieja, as we serve the English-speaking population in the area."
Bishop David Hamid: No longer providing worship services in 4 centres in the Chaplaincy.
Credit: Wikipedia