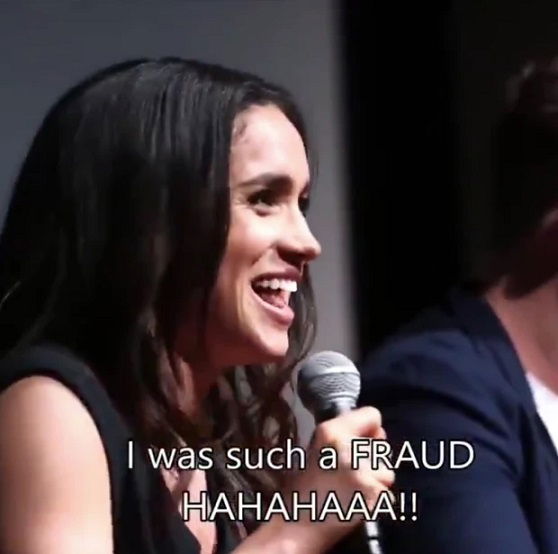 Meghan Markle admits she lied to casting directors so she could be cast in a resurfaced clip from her Suits run.
The footage came to light as news of a potential voiceover deal suggests the former Suits actress might be looking to return to Hollywood, Meghan has admitted to pretending she was in an actors' union at an audition for a television pilot called Century City.
When Meghan was asked by the casting directors if she was a part of an actors' union, she said: "Of course I'm union.
"Yeah, absolutely I'm union."
In the ATX Festival Q&A clip, Meghan laughed and told the audience, "I was such a fraud."
She continued: "The Mike Ross of auditioning… Whatever, I had a line in it."
As they stepped back from their Royal Duties and launch "Brand Sussex" the couple are free to pursue book deals, TV deals, public speaking, fashion and brand partnerships after their split from the royal family. Megan is reportedly understood to be in the market for a Hollywood agent and has been living on Vancouver Island, Canada, with baby son Archie since January this year.
Related, Piers Morgan on Megan Markle:
Morgan slams Meghan again, calls her a 'mini Kim Kardashian'
The Duke and Duchess of Sussex hoped to get away from all the press coverage about them by retreating to Canada. But Morgan isn't letting things go that easily and has taken the opportunity to slam the pair's decision on his show. And not surprisingly, he's taken jabs at Harry's wife again too.
"Meghan and Harry have demanded and will get a license to commercialize their royal status," Morgan said, before asking his co-anchor, "' Why do you think Meghan Markle will make hundreds of millions of dollars like a Kardashian?' … If she tried that game before she would have made very little money."
The TV host continued, "Let's just say her track record in this area isn't great, with anybody. Her entire family, boom. Her dad, boom. Ex-husband, boom. All her old friends, boom."
On Jan. 29, Morgan again expressed his ill feelings about the duchess in a special titled, Harry & Meghan: The Royals in Crisis.