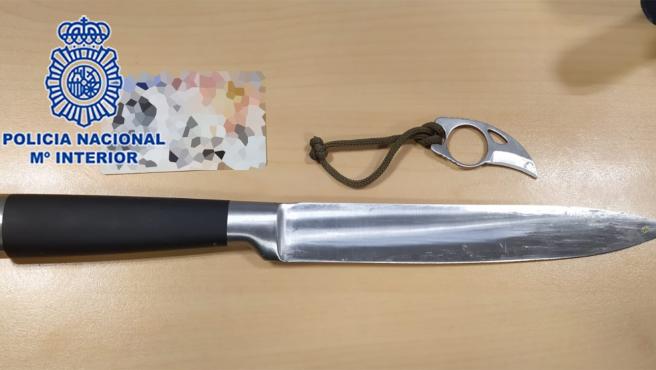 THE National Police has arrested an individual for allegedly trying to rob a Murcia food store armed with a 21 centimetres long blade. The event took place last week when an individual entered the shop, located in Murcia capital, run by people of Chinese nationality.
Brandishing the long knife, he threatened the owners of the premises demanding that they give him the money from the box.
Moments later, a customer entered the premises and interrupted the would-be robber, who proceeded to run away. However, he ran into the path of a patrol of officers, all belonging to the Operational Response Group (GOR) of the San Andres District Police Station, who were carrying out crime prevention work.
The officers, upon noticing an individual with a covered face, carrying an object and running, gave chase.
During the chase, the criminal threw an object under a vehicle. Moments later he was intercepted by the officers, who recovered the thrown object, which turned out to be the knife used to intimidate his victims. In the search carried out on the detainee a small nail-shaped weapon was also found.
The detainee as the alleged perpetrator of a crime of robbery with violence and intimidation in the attempt is a man of Spanish nationality and 47 years old.