TURRE'S main road is going to get a pavement at last.
Works have now started on an 850-metre section of the Avenida de Almeria running straight through the centre of the village.
A pavement is being created on one side of the thoroughfare between La Para bar and the entrance to Turre coming from the Mojacar direction with a view to making it safer for pedestrians.
The current project is a modification of what was initially approved in 2016 as some changes have been made to the road since then. It has a budget of €76,550 and is due for completion in May.
Works have also got going on another outstanding project, improvements to Calle Palmeras next to the church. The budget of just short of €86,000 covers measures including creating separate sewage and rain water networks, running telephone and street light cables underground, resurfacing, planting palm trees and installing benches and bollards.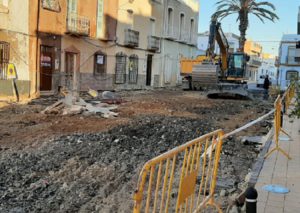 The Calle Palmeras works are a continuation of the upgrades to Calle Aire and are expected to take three months to complete.
The two infrastructure projects are financed 70 per cent by the Diputacion de Almeria and the remaining 30 per cent by the local council.