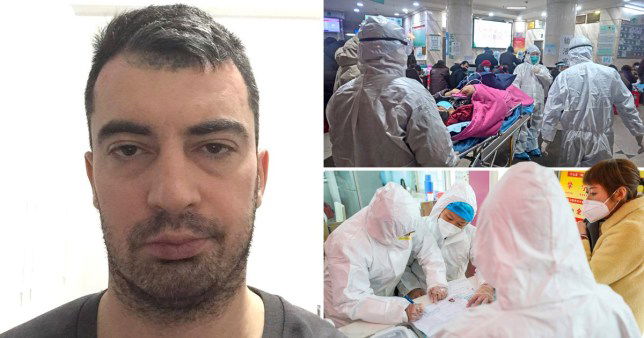 A British teacher stranded in Wuhan says he is 'taking each day as it comes' after missing the last rescue flight out of the city.
Tom Ellender, 37, didn't register with the British consulate in time to secure himself a seat on the rescue plane carrying 83 Britons back to the UK today.
He is currently running low of face masks and is unsure as to what is going to happen next for others that are stuck in Wuhan.
Tom moved to Wuhan last October having previously taught English as a second language across Asia, he was about to embark on a new job once his broken foot had healed.
The South Londoner said: 'I was just about to recover physically and financially when the virus struck.'
It has since ravaged the Hubei province, killing 213 and infecting more than 10,000 worldwide.
Tom is unsure as to what the real figures are but there was talk about a potential outbreak all the way back in early December.
He said: 'There is no way of knowing what the real figures are in China. Plus only "confirmed" cases are being mentioned. There must be many more unconfirmed cases.'
Tom said it felt like the UK's response to the outbreak 'was al very rushed', with some Britons not given enough time to make the rescue flight because there is lack of operating taxis in the city.
He added: 'Britain seems to be slow off the mark. I don't know if its related to Brexit. I suspect it is.
With Wuhan and much of the Hubei still under confinement, Tom said the bustling city he first moved to now looks 'like a wasteland'. Not everyone is following the rules. I've seen people walking around my apartment complex without masks and openly smoking on the fire steps.
In a delayed response to the growing health emergency the Chinese authorities imposed a lockdown, at the time when infection numbers were still relatively low, the rapid quarantine sparked fears that the government was covering up the true extent of the crisis.
Tom has set up a gofundme page to get himself back to the UK.