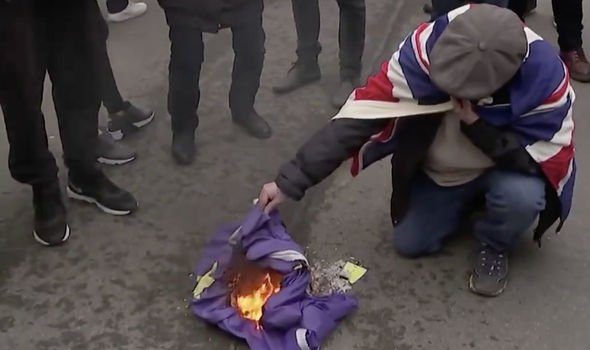 Brexiteers set fire to an EU flag near Downing Street, London, as crowds gather to celebrate Brexit this evening. 
A man wrapped himself in the Union Jack flag while setting fire to the EU flag in a crowded street as people watched on. It comes soon after the UK flag has been taken down at the EU Council building in Brussels, hours before the UK formally leave the EU.
The government will also mark Brexit with a "Commemorative light display" in Downing Street just before 11pm, with a countdown clock projected on to its black bricks from 10pm.
Union Jack flags will line the Parliament Square while Government buildings will be lit up in red, white and blue.
Boris Johnson will hail the "dawn of a new era" in an address to the nation outside 10 Downing Street later this evening, after 47 years of membership.