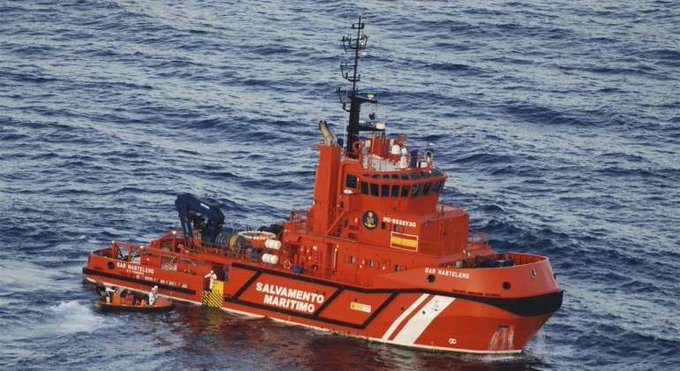 Óscar Maquera, the second crew member of the 'Rúa Mar' has appeared. The body has been found by a fisherman on coast of Tarifa, in the area of Punta Oliveros.
Friends of the crew of Spain's Cadiz fishing boat 'Rúa Mar', missing since last week in Moroccan waters, have identified the body found today in Tarifa as that of Oscar Maquera, one of the sailors.
Maquera, 44, had dual Peruvian and Spanish nationality and was one of the crew members of the longliner, the second body of the six missing to be found at sea after that of the boat's skipper, Antonio Javier Maza, which was found on Monday.
Sources from the 112 emergency service explained that the alert of the body was triggered yesterday by a fisherman who was in Punta Oliveros, on the coast of Tarifa, near the old barracks located in the area.
The emergency services alerted the Cadiz Fire brigade, the Civil Guard, the ambulance services and the Local Police of Tarifa.
Members of the Civil Guard, on confirming that the sighting corresponded to that of a dead body, activated the judicial protocol.
The body was spotted in an area of difficult access and it was the fire brigade who recovered the body.
Regarding the location of the 'Rúa Mar' officials have informed that after the corresponding inspection carried out with the sonar and the underwater robot installed in the ship 'Clara Campoamor' on the wreck found this Monday by the Navy ship 'Tofiño', the wreck does not correspond to the missing fishing boat.
The Spanish Navy tweeted: "We bid farewell to the day from the maritime action ship #Lightning, tireless in its search mission in the @salvamentogob for the location of the fishing boat #RuaMar."
Despedimos el día desde el buque de acción marítima #Relámpago, incansable en su misión de búsqueda en el dispositivo de @salvamentogob para la localización del pesquero #RuaMar. #BuenasNoches#SomosLaArmada 🇪🇸#DefendemosEspañaDesdeLaMar pic.twitter.com/KedtOcM0B3

— Armada Española (@Armada_esp) January 28, 2020