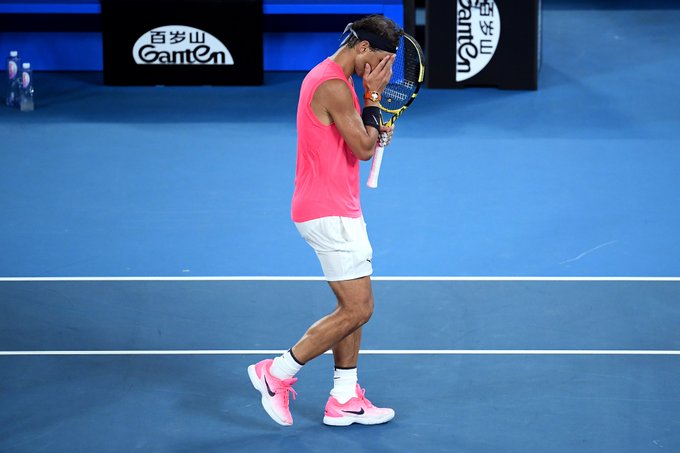 Dominic Thiem knocks out world No 1 Rafael Nadal to advance to Australian Open semi-final and with it the Spaniard's dream to claim another grand slam title and match Federer's golden record of 20.
It's been a pleasure, @RafaelNadal.

We hope to see you next year 👋#AO2020 | #AusOpen pic.twitter.com/YN0jODE6Kj

— #AusOpen (@AustralianOpen) January 29, 2020
A gruelling match in excruciating heat which only added to the agony of the four hours and 11 minutes head-to-head tennis spectacle.
Thiem finally taking the well-deserved victory in 7-6 (7-3), 7-6 (7-4), 4-6, 7-6 (8-6) in a formidable, tightly fought match.
An absorbing encounter, which from the very start was regarded as a brutal Open 'slugfest' showed some spectacular tennis and the No 1 seed sent packing in the last eight.
Having lost the first two sets in the tie break, Nadal fought back to take the third relatively easy and it seemed he had turned the tables, but Thiem wasn't going to let go so easily.
Nadal needed a break late in the fourth set, trailing 5-4 after failing to hold in his second service game of the set. Thiem faltered badly, with a couple of mishit shots and a double fault handing the game and the momentum to the top-ranked player in the world, who has won 19 majors but only one Australian Open.
A rattled Thiem failed to break back, but he regained his composure to hold his own serve and force the third tiebreaker of the match.
Thiem then held his nerve in the third tiebreak, demonstrating a powerful array of ground strokes to secure his first hardcourt victory over the Spaniard.
Nadal is the first member of the "big three" to slip up in Melbourne after Roger Federer and Novak Djokovic set up a meeting in the final four with victories Tuesday.
The 26-year-old Austrian will meet Alexander Zverev in the semifinal, a youthful match up compared to Federer and Djokovic on the other side of the draw.
Thiem said after the match: "Serving for the match against Rafa was such a really mentally tough situation. I couldn't handle it, but turned it around in the tie-breaker. I'm very happy I won the tie-break because otherwise we would be in a fifth set now."
Thiem's semi-final opponent Alexander Zverev has pledged to donate all of the champion's prize money, a little more than 4 million Australian dollars — about $2.85 million — to relief efforts for the wildfires raging around the country if he were to go all the way.
Just two matches to go now, a very "prized" win for many if Zverev can do it.