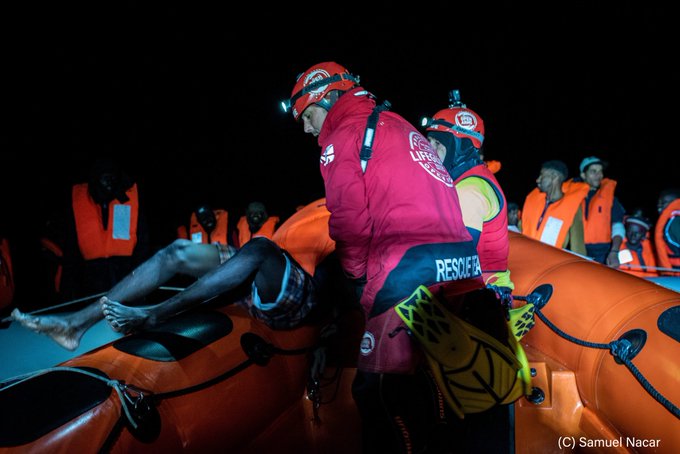 OPEN ARMS rescued 237 migrants yesterday, Tuesday, 158 of which were on two endangered vessels in the central Mediterranean Sea.
56 people were initially rescued from a damaged boat that was having engine problems. They then rescued another 102 people. The charity said that the 158 people rescued have been saved "from probable death".
Open Arms' then completed a third rescue operation to save 79 migrants which took place after responding to a distress call about a possible sighting of an unsafe vessel adrift some 30 miles off shore.
"Now there are 237 people on board, some needing medical assistance," explained the founder of the NGO, Oscar Camps, in a message to social networks, who highlighted that the 'Open Arms' is the only humanitarian ship in the area.
"Aboard the Open Arms 158 castaways, saved from probable death. We are the only humanitarian ship in the area and almost 500 are waiting for safe harbour," the NGO said in a message posted on Twitter.
🔴 #ULTIMAHORA
Finalizado de madrugada 2o rescate de una barca en peligro con 102 personas en aguas internacionales.
A bordo #OpenArms 158 náufragos, salvados de una muerte probable.
Somos el único barco humanitario en la zona y casi 500 esperan puerto seguro
#SalvaOpenArms pic.twitter.com/WYWHV86LpT




— Open Arms (@openarms_fund) January 28, 2020
Open Arms also warned that in addition to the 158 people that the Catalan NGO has rescued, there are 500 more people on board other rescue ships, the Ocean Viking and Alan Kurdi – all awaiting safe harbour.
🔴#ULTIMAHORA
Tercer rescate en menos de 24h.
237 personas a bordo del #Openarms
Ningún otro barco humanitario en la zona.#SalvaOpenArms https://t.co/CychaqA14x

— Open Arms (@openarms_fund) January 28, 2020
The UN High Commissioner for Refugees (UNHCR) estimates that already more than 60 people have died this year trying to reach the coasts of southern Europe in an irregular manner. The UN and NGOs are calling on the EU to set up a mechanism for disembarking those rescued in a safe harbour and in a timely manner.
In November, Italy offered a safe port to the Open Arms ship after they saved 73 migrants shipwrecked in the western Mediterranean sea. It followed weeks of uncertainty when former Italian interior minister Matteo Salvini would not grant permission for Open Arms to dock in an Italy. After 19 days stranded in the Mediterranean with over 160 migrants on board, the Open Arms rescue ship eventually docked in the Italian port of Lampedusa.
In September, Òscar Camps, head of the Proactiva Open Arms NGO, was awarded the Catalan parliament's Medal of Honour, along with the captain of the Sea Watch 3 rescue ship, Carola Rackete.