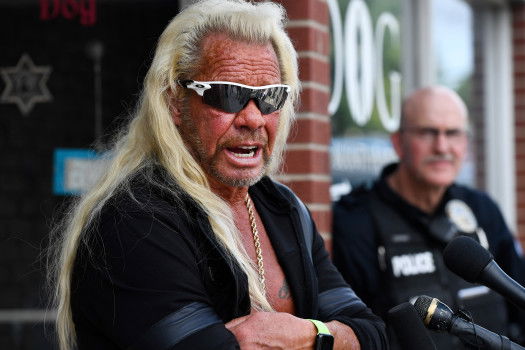 Duane 'The Dog' Champan has proposed to his new girlfriend, Moon Angell, in a new clip for TV show Dr. Oz. – seven months after the death of his wife, Beth.
The preview was posted by the show's Twitter account and shows Dog tearfully asking his girlfriend the all important question. We dont not get to see the answer, but Angell appears shocked as she gasps at the end of the clip.
They Tweeted: "A marriage proposal? After weeks of family turmoil, @DogBountyHunter and Moon Angell join me to set the record straight. Airs 2/3."
We assume that her response will be unveiled in the episode.
This February on The Dr. Oz Show: Big stories — bigger guests@DogBountyHunter@JessicaSimpson




And will @markwahlberg and I settle our rivalry? Tune in. pic.twitter.com/NBgrzjw1ih

— Dr. Mehmet Oz (@DrOz) January 28, 2020



This comes after allegations that Dog is indeed dating his son's ex-girlfriend. His daughter, Lyssa Chapman, claims that Angell has formerly been dating one of Dog's sons.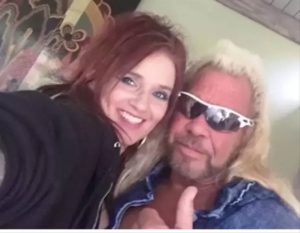 Lyssa wrote via Twitter: "If someone who met your family by dating your brother, tried to date your father after your stepmom died what would you do?
"If you went to your mother's closet and saw she moved all her clothes and replaced them with her own, what would you do?
"My dad is a GROWN A** MAN. His money. His dynasty. But you can guarantee that my name is not going down in history as a person who supported this."
Users followed up by suggesting that Dog is simply trying to move on, to which his daughter replied "It's not when or why it's who."
Dog has recently commented on his current relationship, stating "there will never be another Mrs Dog." However, he has admitted to seeking companionship since his wife's death in June of last year.
Dog replied to his daughters claims by saying: "Moon has been a trustworthy and loyal friend to me for over 20 years. She has been with my family through many ups and downs."
"All my children are grown and gone on their own, there's no one left to help me! Moon is experienced. It's just that. Who knows what my future holds, but right now I need her. There will never be another Mrs Dog, but that doesn't mean I have to be so sad."
Insiders have also supported Dog's relationship decision, stating "Since Beth's death, she has stepped in to help Dog in his time of need. There will never be another Beth," they said.