The disturbing find was made by a resident of Moriles in Spain's Cordoba who was depositing rubbish in waste containers on the outskirts of the town. To his surprise he found a dead cat that had been heartlessly left in a box next to the rubbish bins.
"I didn't see it at first," Antonio Casas, the 55-year-old resident of Moriles said "In fact I almost stepped on it. It's shocking that someone would leave their cat there with the rubbish. I know it's dead, but surely it needs to be buried. Apart from spreading deceases, a pet is part of the family, it needs to be cared for, even in death."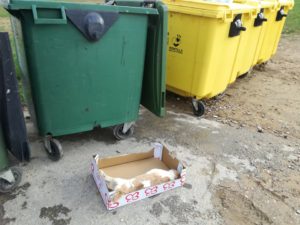 Antonio then added, when asked if he was sure it was a domestic cat "Well, I can't be sure" he said, "but who would pick up a stray cat to leave it by the rubbish, that doesn't make sense either. Especially here, in the middle of the countryside. It would be easier to leave it where it was and let mother nature do her thing" He said with a scratch to his chin in bewilderment. "Besides, it wasn't scrawny like most stray cats, it looked clean and well fed."
"There are loads of abandoned animals, but I've never seen one left for the dump truck to pick up before. I was going to bury it myself" Antonio informed "But I was on my way to my daughter's house for lunch and I was already running late. And when I came back it was gone, I hate to think that the dogs would have got at it or something."
According Ecologistas en Acción, some 300,000 animals are abandoned every year in Spain, three every five minutes, and in addition to the traditional pets – dogs and cats – every year there is a growing number of invasive exotic species, such as turtles, ferrets, raccoons and parrots.