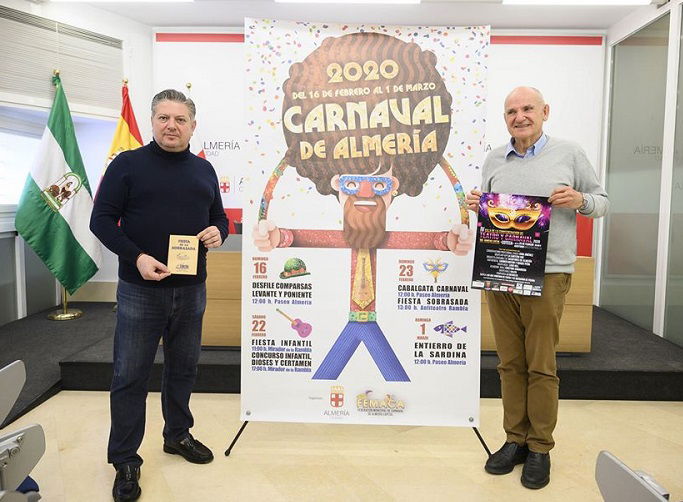 CARNIVAL is just around the corner in many areas of the Costa Almeria, although in the provincial capital the celebrations are already underway.
Competitions for "chirigotas", or humorous carnival groups performing satirical pieces, have been taking place all week and will continue until the grand final in the Maestro Padilla municipal auditorium on February 15, while in the second fortnight of the month the fun and entertainment will move out on to the street.
Unveiling the city's carnival programme last week, Culture councillor Diego Cruz and FEMECA Almeria Capital Carnival Municipal Federation President Nicolas Castillo, revealed a packed agenda of activities and promising several novelties this year.
These include a procession of carnival troupes from other parts of the province at 12 midday on Sunday February 16 in the Paseo Almeria.
Other carnival highlights will include the events for kids on Saturday February 22 in the Mirador de la Rambla, featuring bouncy castles and attractions and a children's competition. Also the big parade at 12 midday on Sunday February 23, going from the Paseo Almeria and along Obispo Orbera and the Rambla to end up in the amphitheatre, followed by the traditional 'Burying of the Sardine' on March 1.
Among the complementary events will be a medieval fantasy market running from Friday February 21 to Sunday February 23 and an artisans' market from Friday 28 February to Sunday March 1 in the area extending from the Mirador de la Rambla to the Plaza de las Velas.
Cruz said the programme invites Almerians out onto the street, to don fancy dress and to enjoy themselves it what is one of the provincial capital's most popular traditional fiestas.