A nine-year-old boy in Florida has been charged with attempted murder in the first degree, after repeatedly stabbing his five-year-old sister.
The young boy, who's name was not released due to his age, is thought to have attacked his younger sister with a kitchen knife inside their apartment. The pair were playing inside when their mother briefly left to check on the mail. She returned to find the attack taking place on her young daughter.
The mother immediately took the knife from her dangerous son, as he fled into the maintenance shed. She grabbed her daughter as she called the emergency services. Reports say that the young girl was alert and responsive after the attack.
An arrest report reveals that the boy then informed police that the thought of killing his sister arrived two days prior to the attack and 'wouldn't go away.' He continued, detailing how he retrieve the knife from the kitchen, hid the weapon behind his back and seeked out his sister from the bedroom. He thengrabbed her by the neck and began his attack, reported by FOX 35.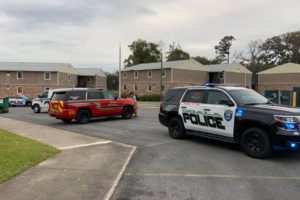 A police detective detailed that he found a large kitchen knife in the hallway, which was covered in blood along the blade. The blood was tracked from inside the bedroom and out into the hallway.
It is believed that the boy was screaming 'Die! Die!' as he carried out his evil act. The boy told investigators that he did it because he wanted to be able to go outside. This left them with probable cause to charge to nine year old boy with attempted murder. He is being held in secured detention ahead of a psychiatric evaluation ordered by a Marion County circuit judge Monday.
The young girl was stabbed numerous times and was airlifted to a hospital for treatment, say Ocala Police Department. Authorities did not have an update on her current condition.
(Images: Ocala PD)