Elena Bunbury 22, a former Tory councillor, was left horrified and outraged after a gym chain tried to play down her harassment complaint by saying men have 'high testosterone levels' whilst working out.
Elena was left horrified after she and her friend were called 'pathetic' and mocked for using 'light' weights by a male gym-goer in the trendy gym GymBox in Stratford east London. Elena decided to email and outline the issues to GymBox, however was left disappointed when the response from an employee said they had 'never had similar issues' and it was simply down to testosterone levels.
Miss Bunbury decided to tweet the response, blasting GymBox for justifying aggressive behaviour from other members. She tweeted: 'So a random gym goer harassed me and my friend at our first visit to @GYMBOXofficial, this is the response we got.. Glad to see @GYMBOXofficial staff justifying aggressive behaviour because it's never happened to them, and men have testosterone..'
According to BuzzFeed Elena said the two women were at a leg press machine and changing over weights when a man approached them and said: 'If you're going to be taking that long in between sets I'm going to have to jump in with you.'
The women then explained they were alternating sets and the man apparently: 'Laughed, eye-rolled and walked off while muttering something under his breath.'
Elena said she turned to her friend and quietly asked what the man's problem was. He apparently came storming over and said to the women 'If you're laughing and smiling when you're doing legs, then you're not doing legs. Pathetic.'
Elena also said how the guy would then follow them around the gym, use the machines next to them and stare at them.
She said: 'It was really intimidating how he was just getting up in my face and shaming me but I'm not here to be judge and jury, that's not why I complained. I complained in the hope that they would take it into their own hands and they would have policies in place to deal with things like this.'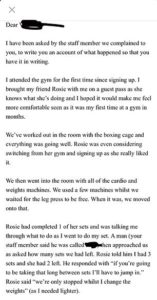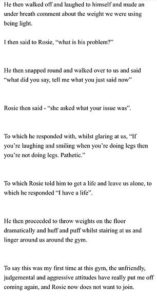 The managers responses though was not what Elena had hoped for:
'Hi Elena, Apologies but I never got your first email.
It is unfortunate you had such an experience in our gym, I have never had similar issues with members. I understand that what was said was inappropriate and rude. I have been working in this gym for three years and I haven't had any complain about (blanked out individual's name).
I will bring this up with my manager and have a discussion with him.
From my personal point of view, it is an unfortunate situation where a guy was rude to you, but it could have happened anywhere. We are in a gym where testosterone levels are high especially during workouts. This mean that reactions to situations can be a bit extreme especially for men.
Please let me know if you need anything else from me.'
As expected, Elena was left in shock and disbelief that a female member of staff was justifying the behaviour. She said: 'The entire tone of the response email was just wrong. I just think an apology was needed from the guy but for the woman to go ahead and sort of justify what he did was quite sickening.
'They're essentially just telling me to get on with it and get over it. I just really think this really made me question the entire ethos of Gymbox.'
Going forward Elena is planning to leave the £70 a month gym, and has had lots of support on Twitter, with people blasting GymBox for their response. One person wrote 'Some very warped attitudes behind the response. Educate the man, he clearly needs it.'