KEEN to encourage environmental awareness at an early age, Benalmadena Mayor Victor Navas and Environment councillor Joaquin Villazon have taken part in a workshop at the La Leala school focused on green matters.
"Conscious of the need and the importance of raising awareness among the very youngest about caring for the environment, the council organises these workshops so they can learn about the urgency of achieving a greener, more sustainable world, in which resources are used efficiently and without being squandered", the Mayor commented.
"We are moving towards a future of caring for our natural environment, and it is a message which is more necessary than ever, especially in these times when denial in the face of a fact as evident as climate change has risen again", Navas added.
"To fight against climate change we have to have society committed to the maintenance and care of our natural environment, and the best way to do this is by raising awareness among the youngest: they are the future", the Mayor concluded.
The Environment councillor explained the local authority organises two different workshops for schools: one on gardening for first-year pupils and one about recycling for year two children.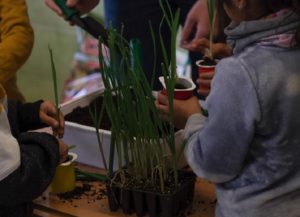 "The most important is that the children are aware of the environment and of recycling, and that they contribute to the greater awareness of their parents", Villazon said.