If you are in the UK then it's time to wrap up and stick on the heating as the "BIG FREEZE" is coming.
Three yellow warnings urged Brits to be careful of "possible travel delays on roads" and "injuries from slips and falls". Forecaster Helen Roberts said: "It'll be an icy start for many, with a widespread frost and temperatures dipping just below freezing."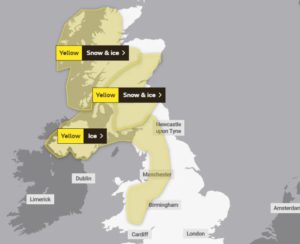 Snow and ice turned roads over Bodmin Moor in Cornwall into skidpans, drivers seemingly disregarding speed restrictions with multiple pile-ups reported. A traffic officer in Cornwall added: "People must keep their speeds down – once you hit a sheet of black ice at speed, the wheels lose their grip and you're basically driving a toboggan."
Overnight temperatures were expected to range from minus 10C (14F) in sheltered areas of Scotland, to between minus 1C (30.2F) and minus 2C (28.4F) in Cornwall and Dorset.
But the coldest temperatures ultimately recorded were -6.6 in Loch Glascarnoch, -5.7 in Dalwhinnie and -4.8 in Altnaharra – all in Scotland.