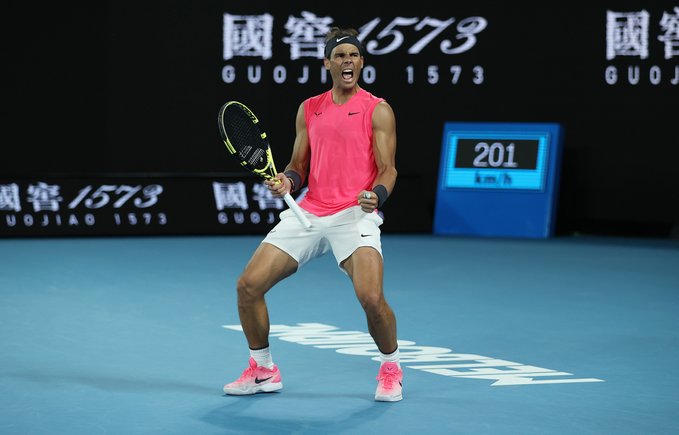 NADAL, 33, had not dropped a set this tournament until today, where the 23rd seed Kyrgios provided his biggest test so far.
The first set was won relatively easy by the Spanish lefty, but spirited Kyrgios picked up his game and a thrilling four-set match ensued.
Kyrgios, who wore a Kobe Bryant basketball shirt in the warm-up, battled hard but Nadal came through 6-3 3-6 7-6 (8-6) 7-6 (7-4) to take the match in 4.
Nadal and Kyrgios have not always seen eye to eye and the storm was brewing between them before they even clashed on the court after a tempestuous meeting in Acapulco. Yet despite their wildly contrasting styles and obvious rivalry, there is an underlying respect for each other's ability on the court typified by their firm handshake at the net following the gripping contest on Rod Laver Arena.
After the match, the underlying respect was there in Nadal's post-match press conference
"When Nick is playing like he did today with this positive attitude he brings a lot of things to our sport… I encourage him to keep working like this because he is one of the biggest talents of our tour."
Nadal was also asked by John McEnroe about the passing of Kobe Bryant:
"What can I say? I wake up this morning with this terrible news. Super sad. He has been one of the greatest sportsman in the history, so he just deserves a round of big applause…I didn't spend time with him but I met him. I have a very close friend that was playing with him for a long time, Pau Gasol, and he always told me that his spirit of overcoming, his spirit of hard work. He always wanted more, he always wanted to increase his level. He's always been a true inspiration for the world of sport and for a lot of kids, so yeah it's one of those days that you want to forget. But Kobe Bryant will be in our heart and our minds for the rest of our lives."
Nadal now faces Austrian fifth seed Dominic Thiem in the last eight.
NEXT-LEVEL NADAL! 👏@RafaelNadal defeats Nick Kyrgios in four sets to reach his 41st Grand Slam quarter-final. #AusOpen pic.twitter.com/7SJzeTzPbh

— ATP Tour (@atptour) January 27, 2020