THE US EMBASSY IN IRAQ HAS BEEN HIT BY MISSILES: Three direct hits-five slam into the riverbank
In what is being described as an unjustified attack, at least three rockets struck the US embassy in Baghdad, Iraq, on Sunday night. In total, eight rockets were aimed at the base but luckily five of the what are believed to Russian built missiles fell short of their target, slamming into the river yards away close a perimeter wall.
One rocket hit the embassy cafeteria while two others landed a short distance away and at least three people were injured. This would be the first time in years that staff has been hurt in such attacks, with no group claiming responsibility, the US has blamed Iran-backed military factions in Iraq.
Iraqi Prime Minister Adel Abdul Mahdi condemned the attack, stating that the continuation of such acts could "drag Iraq into becoming a battlefield". The US State Department said: "We call on the Government of Iraq to fulfill its obligations to protect our diplomatic facilities."
Recent attacks have targeted the embassy or Iraqi military bases where American troops are deployed, officials admitted that at least 50 troops had suffered head injuries in the last attack. Iraq has been dragged into a rapid deterioration in relations between Iran and the US in recent months.
This included the US killing of the top Iranian military commander, Gen Qasem Soleimani, by a drone strike on 3 January at Baghdad airport. Also assassinated in the US strike was Abu Mahdi al-Muhandis, an Iraqi who had commanded the Iranian-backed Kataib Hezbollah militia group.
Powerful Iraqi Shia cleric Moqtada al-Sadr has organised anti-American demonstrations aimed at pressuring US troops to leave Iraq. Sadr's supporters were involved in widespread anti-government protests before the cleric called for the focus to shift to the US after the killing of Soleimani.
They began withdrawing from anti-government sit-in camps on Saturday.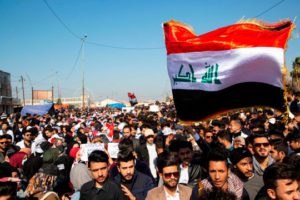 One killed, more than 100 wounded
Meanwhile, one protester was killed in Baghdad and more than 100 demonstrators were hurt in violence in the capital and several other cities after the security forces tried to clear sit-in protest camps.
Medical sources said 75 of those hurt were in the southern city of Nasiriyah, where a witness said protesters set fire to two security vehicles, and hundreds of other demonstrators controlled key bridges in the city.