January 27th marks the international Holocaust Memorial Day. Survivors have returned to Auschwitz to lay wreathes, commemorating the lives lost in the genocide.
75 years have passed since the liberation of Auschwitz by Soviet troops, where 7,000 prisoners were freed. This was the venue for the deaths of 1.1 million people. Ninety percent of those murdered in the Nazi death camp were Jewish.
Holocaust survivors return to Auschwitz to lay wreaths against an execution wall.
Ahead on @CBSThisMorning: Commemorating the 75th anniversary of the liberation of Auschwitz. pic.twitter.com/Rrb3UVhZ0C

— CBS News (@CBSNews) January 27, 2020
More than 200 survivors of the camp are expected to return for the memorial, many of them elderly Jews who have traveled far from homes in Israel, the United States, Australia, Russia and elsewhere. Many lost parents and grandparents in Auschwitz or other Nazi death camps, but today were being joined in their journey back by children, grandchildren and even great-grandchildren.
"We want the next generation to know what we went through and that it should never happen again," said Auschwitz survivor David Marks, 93, as he spoke with an emotional tone.
Later on Monday, the survivors will be joined by world leaders for a commemoration ceremony which will be attended by the Duchess of Cornwall. The Duke and Duchess of Cambridge will also attend the UK Holocaust Memorial Day commemorative ceremony in Westminster.
Survivors dressed in blue and white striped caps and scarves symbolic of the uniforms prisoners wore at the camp.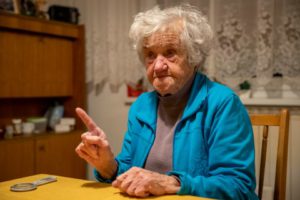 A woman who was held at the Ravensbrück death camp in northern Germany, will celebrate her 100th birthday on Holocaust Memorial Day by attentind the memorial in Poland. Marija Frlan was able to walk back to her home nation of Slovenia as a free woman, following her liberation from the Nazi death camp.
Marija was held there for more than a year between 1944 and 1945. After entering the camp, she would never see her husband again and was forced to endure medical experiments while being starved.
Speaking of her experiences, she said: "The ones who didn't survive this, they can't understand, no. It was terrible.
"One time, the inspection was going on for four hours. It was a rainy day. It is impossible to explain if you weren't there."
Mrs Frlan went on to marry again and the couple raised a family, with her giving birth to six children. She worked as a cleaner and factory worker after the war and, aged 70, climbed Slovenia's highest Alpine peak of Triglav.
Ravensbrück was the largest concentration camp for women and was only second in total capacity to Auschwitz. The US Holocaust Musuem says that around 50,000 people were held at the camp.
World leaders gathered in Jerusalem last week to mark the anniversary in what many saw as a competing observance. Among them were Russian President Vladimir Putin, US Vice President Mike Pence, French President Emmanuel Macron and Britain's Prince Charles. Politics intruded on that event after Putin accused Poland of cooperating with Germany in 1938.
Organisers of the event in Poland, the Auschwitz-Birkenau state memorial museum and the World Jewish Congress, appeal to keep the spotlight on survivors. "This is about survivors. It's not about politics," said Ronald Lauder, President of the World Jewish Congress.