Saturday saw an FA Cup tie between Reading FC And Cardiff FC that saw the game drawn 1-1 although it's not the game itself the football world is currently talking about.
Racism and homophobia chanting is the topic as the game was marred by tannoy announcement requesting it to stop as in line with the new regulations with the fight against racism in the game.
Although Cardiff City fans are in disgust at the action taken, which on paper looks a total overreaction by Reading FC.
Cardiff City are not known at all for being a racist football club, it's a city that's always been a multicultural area of many races. Cardiff City who once beat Spain's Real Madrid in a cup game is widely known as being a proud Welsh Club with passionate fans but certainly not racist in way of colour of any creed.
Annis Abraham himself who's now based in Spain's Mallorca recently told the Euro Weekly News how he was proud that racism has never been seen in all the years he has followed the club, Abraham who travels back and forth to games from his Mallorca base also operates the main Cardiff City Forum where fans have taken their fury.
Although 4 arrests of Cardiff City fans were made, they were later released without charge by Reading police force- indicating they took advice from local stewards who made the complaint.
Cardiff City fans are now actually calling for a full apology.
One fan started a thread Posting "I was at the game yesterday and was disgusted by the announcement made by Reading which was only too readily jumped upon by a compliant media.
The club and the supporters club must go on the attack on our behalf and demand a full explanation from Reading. If it turns out that the announcement was unjustified -as it clearly was in my opinion- demand a full apology which is given as much publicity as that which their original announcement was.
No pussyfooting around with the usual weasel words along the lines of "we take these issues very seriously" etc, etc. A proper apology!
Cardiff supporters may be many things but one thing we have never been is racist. Reading football club have made an unjustified attack on that reputation and the club must not sit back and accept it."
The post caused a storm of replies with hundreds in agreement.
Although Marbella based Simon Fowler was even more critical. He told the Euro Weekly News " Someones having a laugh here, look at me I'm black and all my pals are black – we come from the docks area in Cardiff and we all follow the City – the clubs never been racist at all, this is just PC correctness gone mad! From what I hear from pals at the game, there was only the normal Welsh V English stuff and stewards took that as racist and provoked the tannoy announcement – that's no racism that is football banter"
"All this nonsense is ruining the game of football – it's a match – not going to the Cinema!"
" If rivalry is now going to be deemed as racist then each club will need 50 tannoy announcers to cope!"
"How can we be racist? even our owners are Malaysian these days!"
David Carter though from Benalmadena a Leeds Utd supporter has totally different views, he said "Cardiff City are a racist club, always have been always will be, they have a chip on their shoulders being Welsh, just look at the vile songs they sing " Always sh@t on the English side of the bridge being one they constantly sing – there's many more but they are unrepeatable – when they come to Elland road to play us its always anti-English swearing and chanting"
"Their club needs sorting out and it looks like Reading have taken the first steps against all racism not just skin colour – it's about time the issue is dealt with," said Carter.
The issue though escalated on Twitter when Cardiff City previous Chairman who resides in Santa Ponca Mallorca on a part-time basis and still a board director at the club tweeted directly at the Welsh-based media.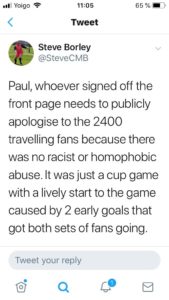 Borley called for an apology too on behalf of the fans of Cardiff and citing it as simply a " lively start"
We spoke with Steve Day from Fuengirola a West Ham United supporter but who through his business activities has attended over 400 games watching Cardiff City in general. He told us " There's no way Cardiff City are a racist club and I agree an apology is required. I have attended hundreds of Cardiff City games over the years, their fans always knew I was English, a West Ham supporter and I never ever had an issue, they are a fantastic bunch, very passionate but that's the Welsh for you, but there is no way in this world they are racist in any shape or form, football songs are simply banter, are they going to have a tannoy announcement every time an inflatable sheep is flown around the ground?"
"Come on, let's have some common sense here – I've been to Reading many times as well, they are one of the least passionate crowds, nothing like the Cardiff fans and I imagine the situation was quite simple – they couldn't cope with the atmosphere so made silly complaints, it's football, the games getting killed enough as it is without this farcical nonsense, It's a total overreaction, Cardiff City didn't deserve to be splashed through the headlines like that," he said.
We showed neutral Steve, David Carter's comments to which he replied "Farcical totally farcical, I've been to those games, as an Englishman on a bus full of Welshman – never an issue and they certainly don't have chips on their shoulders, it sounds like they (Leeds) do though if you listen to Carter!"
"In fact, the greatest atmosphere I've ever seen at a football match was FA Cup Cardiff V Leeds, they were top of the premiership at the time, Cardiff far lower league then and they got rolled overall they did was moan and complain after and still do"
Cardiff City themselves have yet to make a comment on the situation although on the club's website they released a statement to the effect.
"Cardiff City Football Club is aware of the allegations made against visiting supporters at today's FA Cup tie at Reading.
We will be speaking with Reading Football Club, Thames Valley Police and South Wales Police (in attendance with our travelling support) to ascertain the facts of the matter.
We will conduct these conversations with the relevant authorities before making any further comment.