Eighteen-year-old Billie Eilish took home the Grammys' biggest awards on a night marked by tributes to Kobe Bryant, Nipsey Hussle and more.
Billie Eilish reigned supreme at the Grammys on Sunday night, winning five awards including best new artist, the album of the year and song of the year for Bad Guy – a high point for Generation Z on a night otherwise defined by solemnity for those who have passed too soon.
She accepted the award with her "best friend," collaborator and brother, Finneas, both of whom appeared stunned by their win.
Eilish: "Why? Wow. … Oh my god, so many other songs deserved this, I'm sorry. Hi. Thank you so much. This is my first Grammys. I never thought this would ever happen in my whole life. I grew up watching them. And this is my brother, Finneas, and he's my best friend. I feel like I joke around a lot, and I never take anything seriously at these kinds of things, but I genuinely want to say I'm so grateful. nd I only want to say that I'm grateful, and I'm so honored to be here amongst all of you. I love you to my core. I grew up watching all of you. Thank you to my team, my mom, my dad, my best friends … for keeping me alive to this day."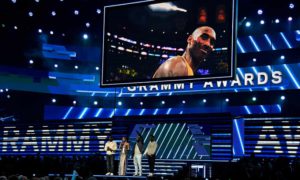 The shadow of basketball legend Kobe Bryant, who died in a helicopter crash with his 13-year-old daughter Gianna and seven others mere hours before the show, loomed large over a ceremony held at the Staples Center in which he played for the Los Angeles Lakers for over 20 years. "We're all feeling crazy sadness right now," said returning host Alicia Keys to a room in which Bryant's retired jersey numbers shone brightly overhead. "We're literally standing here heartbroken in the house that Kobe Bryant built."