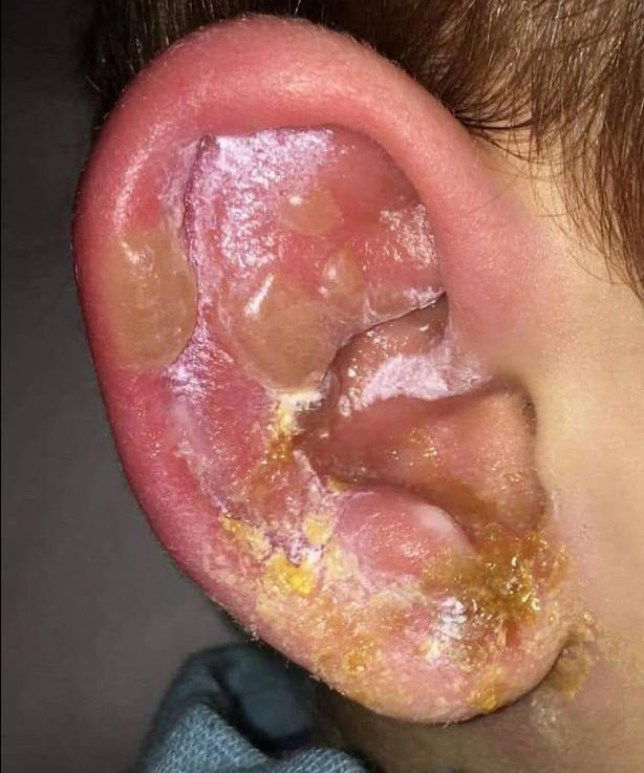 A MUM has given a agonizing warning to other parents after her son contracted a horrifying lifelong condition from being kissed as a baby.
Laura Redfern, 31, shared a picture on social media of her four-year-old son's ear, warning that anyone going near a newborn baby to wash their hands and not to kiss them if they suffer from cold sores.
"He can't even lay on it and we've just been told he will have it for the rest of his life and has to be in hospital every time it flares up like this as it can cause big infections like sepsis.
"So please if anyone goes near a new born please wash your hands and don't kiss them if you suffer with cold sores.
"My poor baby has to suffer with this for the rest of his life."
Although she doesn't know who caused the pain that her son feels, Laura told Hull Live she has been told by doctors that it was brought on by someone with a cold sore. She said that Farron is a normal, playful little boy – when he's not experiencing a flare-up.
"He doesn't understand what it is. It's awful.
"I didn't even know about it myself. There's no awareness about it. I just want awareness. If someone has a cold sore, don't let them kiss your baby."