More than 50 million people now are on lockdown in China as the government warns the virus is "accelerating its spread".
A report on state TV said resources and experts are being concentrated at designated hospitals for treatment of severe cases, with no treatment delayed due to cost, and supplies of materials to Hubei province and its capital Wuhan to be guaranteed.
A total of fifty-six people have now died from the coronavirus outbreak in China as the country's leader described the accelerating spread of the disease a "grave situation". State media said China's Hubei province has 13 new deaths, with the total number of confirmed coronavirus cases in China is now at 1,975.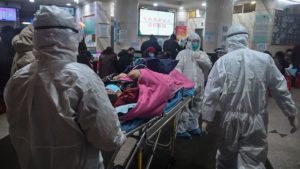 Shanghai has just reported its first death from the outbreak, while Hubei reported 323 new confirmed cases of infections, and separately, the province of Henan also reported one death from the virus.
The virus originated in the central Chinese city of Wuhan in Hubei late last year and has spread to Chinese cities including Beijing.