An Earthquake measuring at least 6.8 on the Richter scale has hit Turkey, reports say that 20 people so far are thought to have been killed and a further 1000 injured another with 11 in hospital in a critical condition.
The quake struck on the East side of the country, Elazig and Malatya, Emergency services were quickly on scene but had difficulty retrieving some survivors as they were trapped under heavy concrete and rubble.
The region struck by the quake, some 550km (340 miles) east of the capital Ankara, is remote and sparsely populated, so details of damage and fatalities could be slow to emerge.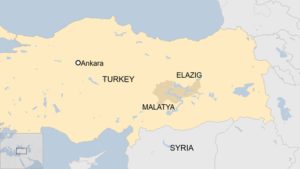 Buildings across a wide area were flattened, gas mains were exploding and fires started to rage, making rescue attempts even more hazardous.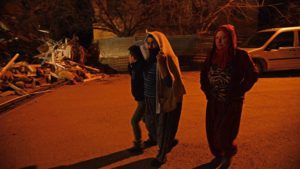 The quake hit the region just before 9pm local time (6pm GMT) at a depth of 6.7km near the town of Sivrice in the eastern Elazig province, the Disaster and Emergency Management Presidency (AFAD) said. It was followed by several aftershocks, the strongest with magnitudes 5.4 and 5.1.
AFAD officials warned residents not to return to damaged buildings because of the danger of further aftershocks. It said beds, blankets and tents were being sent to the area, where the overnight temperature was below 0 degrees Celsius.
Some 30 buildings had collapsed from the quake in the two provinces, according to Murat Kurum, the environment minister.
The earthquake could be felt as far afield as Syria, Iran and Lebanon – and is the latest in a long history of devastating tremors to strike the country on the eastern edge of Europe.