Spain's Andalucia is on orange alert until at least 3pm today.
Heavy monsoon type rainfall will continue to fall through the day, with snow being unleashed inland on the Coast del Sol.
Roads are flooded and the police are urging drivers not to take to the roads unless it's an urgent requirement.
9 minor car crashes have already taken place in the early hours, many due to excessive water on the roads as the bulge with water.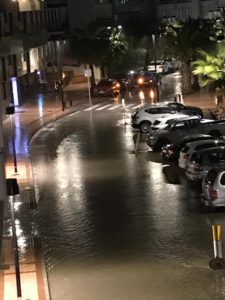 Roads are now rivers in many places.
More thunder and lightning is due and wind speeds will also increase through the day causing more havoc.
Local Authority workers are currently pumping out river beds as water is now flooding down from the mountains but staff are now on high alert as banks are expected to burst shortly causing mudslides.
Sand banks are being issued out to businesses and ground floor homes in preparation for burst banks.
Emergency services have cancelled weekend leave and are all ready proactive dealing with incidents.
The message is clear, stay indoors until the storm passes wherever possible.