Authorities are desperately trying to trace 2,000 people who flew from the region of Wuhan , China where the Coronavirus broke out to the UK in the last two weeks.
Astonishingly, as recently as yesterday there were film crews from the media talking to passengers who were coming out of arrivals at Heathrow Airport, apparently oblivious to fact that any of these people could have been harbouring the virus!
It is understood Border Force officers have been recruited to assist in speeding up the search for passengers as testing for the virus continues in the UK. It comes as the death toll from the Sars-like virus has risen to 41, while the spread to Europe has been confirmed with three cases in France .
The fatalities so far have been contained to China, which has placed a reported 56 million people on lock-down, with the majority occurring in the Hubei province around Wuhan.
UPDATE: Wuhan to build second designated hospital: State media
Wuhan city will build a second dedicated hospital to treat patients of the new coronavirus, the People's Daily reported.
Construction of the hospital, designed to have 1,300 beds, is scheduled to be completed in half a month. Work has begun on the first dedicated hospital and is due to be finished by February 3.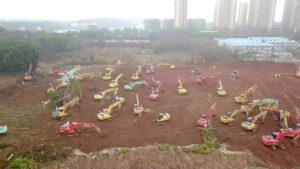 Hong Kong declares outbreak an 'emergency'
Hong Kong's leader has declared the outbreak as an "emergency" – the city's highest warning tier – as authorities ramped up measures aimed at reducing the risk of further infections spreading.
Carrie Lam made the announcement at a press conference, adding that all official celebrations of the Lunar New Year would be cancelled.