A teen once labelled as the 'worlds fattest kid' has been described as a symbol of hope by his personal trainer, after losing 17 stone (108 Kg).
Arya Permana, 13, from Karawang, West Java, Indonesia, weighed a ghastly 30st (190kg) when he decided to shed the weight aged 10. He lost more than half his bodyweight thanks to a gastric bypass and his personal trainer Ade Rai, who taught him valuable nutrition and exercise knowledge.
The youngster began training regularly, as well as swapping out unhealthy, sugary foods for fruit and vegetables.
Mr Rai told Asia One: "According to Arya's parents, initially he weighed 85kg before his appetite increased extremely. He is now losing weight without losing his spirit. This is a rare quality, especially among adults.
"Arya is now a symbol of hope. People now say: 'Even Arya can lose weight, so why can't I?'"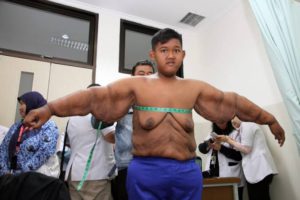 Arya is expected to have further surgey to remove the large amount of excess skin, caused by the severe weight loss.
Plastic surgeon Hardisiswo Soedjana said: "We will do a procedure on his arms. Afterwards, we will lift his breast skin. Next, there will be steps to remove the excess skin on his belly."
After his successful transformation, Arya said: "Now I am happy, I can walk. I can play as well. I have become more agile than before. I like playing football too. I can walk 5km with my friends and every afternoon I play football with them.
"My favourite football club is Liverpool FC and my favourite player is Roberto Firmino. I want to play like him."
Arya previously attracted headlines when footage emerged online of him as a morbidly obese child playing in a water tank to cool his body. He was very upset by the fact that he wasn't able to play with his friends.
Before his operation he had been officially declared the heaviest boy on record by the Indonesian version of the Guinness World Records, the Indonesian World Records Museum.
He was interviewed at the time, he told ABC: "My weight has dropped dramatically after the bariatric surgery.
"They made my stomach smaller, I lost my appetite, now even six spoons of food already makes me full. They prevent me from consuming sweet food and drinks, particularly soft drinks. They ask me to eat more fruits and do exercise regularly."
People across Indonesia are reportedly decided to get into shape after the motivational story.