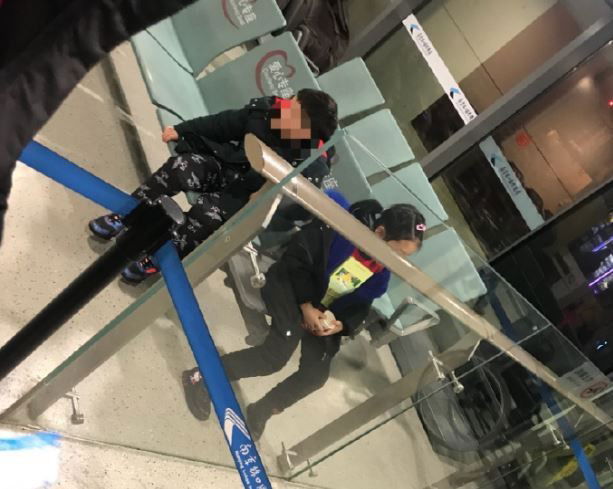 A couple in China abandoned their two children in an airport, after their son had a fever and was banned from flying – following on from the coronavirus outbreak.
The young boy was stopped by workers at an airport in Ninjing, China, after he reportedly had a fever. With the outbreak of the coronavirus, travellers are being constantly screened for systems, in order to manage the potential spread. It is reported that the parents decided to board the aircraft anyway, deserting their two children at the departure gate. Fellow passengers and airline workers were said to be in shock.
The incident was brought to light when a blogger posted pictures of the children on Weibo, the Chinese equivalent to Twitter. They suggested that the parents were displeased once their son had been told he could not fly with his potential symptoms. The pictures taken showcase the two young children sat nervously unattended in the departure lounge.
Yangzi Evening News say the incident happened on Wednesday night in Nanjing Lukou International Airport, which serves the provincial capital of Jiangsu. The family were trying to fly from Nanjing to Changsha with flight being operated by Xiamen Airlines.
A passenger told the evening news, "It seems the boy's body temperature was 38.5 degrees Celsius. The airline company did not allow the boy to board the plane, but the children's parents would not agree."
The incident ensued for around two hours, causing a delay to the flight itself. Eventually, police officers arrived to mediate between the protesting parents and the airline. "At last, workers let the adults onto the plane," claimed the passenger, who added that the children were left to sit in the airport alone.
After the chaotic episode between the family and the airline, the children were eventually allowed to board the plane – being sat specifically at the front of the cabin. Understandably, some passengers are said to have been concerned about flying with the potentially ill boy. The flight was delayed a total of three hours, according to the airport.
The coronavirus has currently killed 26 people and infected more than 830 in at least 10 countries and regions within three weeks. Experts estimate that every two in one hundred cases result in death. Several cities across China have effectively gone into lockdown following the outbreak, with reports across many nations that people are arriving symptoms of the virus. The news on the outbreak is constantly developing.
(Images: Twitter)