Kathleen Thorson gave birth to her fourth child, but sadly died from a brain haemorrhage five days later – her dying wish was to donate her organs to help others.
Kathleen Thorson, a loving mother from Medford, Oregon, delivered her fourth child, a son named Theodore, on December 29. However, five days later she was rushed into emergency surgery, according to a GoFundMe page. She was suffering from an intracerebral hemorrhage. Kathleen had suffered a postpartum brain bleed, but despite the efforts from doctors with the several surgeries, the mother could not be saved.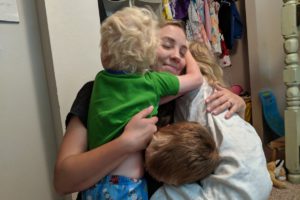 This traumatic event did indeed have a silver lining, as Kathleen was generously a registered organ donor – hoping to help others beyond her own life. Kathleen was able to donate a staggering twelve organs, which included both her heart and lungs.
The GoFundMe page organised for Kathleen's family are aiming to cover the medical costs of their youngest son, for Kathleen's hospital bills, and for upcoming funeral expenses.
"Kathleen's condition deteriorated to a point that she could no longer survive," wrote Richard Stubbs, who organised the GoFundMe.
"As was her wish, we are doing everything we can for her to be the prayed-for miracle of life for certain others in need of organ donations."
"The nurse told Jesse the chances that someone is a candidate of this magnitude is less than (one) in a million, but anyone who knew Kathleen already knew that," Richard added.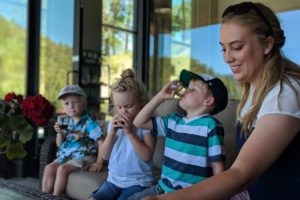 The crowdfunding page has seen a influx of donations in recent days. The total now currently sits at $119,680 (£91,187), overtaking the original target of $95,000 (£72,900).
The heartwarming story also received attention from celebrity, Kristen Bell – who runs a line of her own baby products called HelloBello.
Bell posted a photo of the family to her Instagram page, writing "Jesse – our thoughts are with your family during this unimaginably difficult time. Sending peace and love your way." Bell also donated the family a years supply of wipes and diapers.
An intracerebral hemorrhage (ICH) is a serious condition in which the brain tissue itself begins bleeding.The most common cause is high blood pressure but others include head trauma, use of blood thinners or the spontaneous rupture of a blood vessel.
About one in 100 women experience postpartum hemorrhaging, and it's more likely to occur after a Cesarean section, according to Stanford Children's Health. It's currently unknown as to what caused Thorson to suffer the hemorrhage or what symptoms she had experienced.
(Images: GoFundMe)