NIJAR council declared two days of official mourning for a 77-year old local farmer who died after becoming trapped under a greenhouse near Campohermoso which came down in Wednesday's hailstorm.
According to reports the structure came down due to the accumulation of hailstones on the roof.
Nijar councillors expressed their condolences for Jose Bautista Salvador's family at a plenary meeting on Thursday and observed a minute's silence out of respect for the Storm Gloria victim.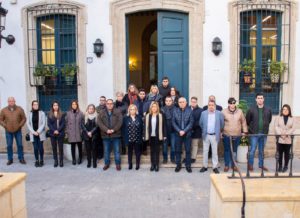 They also agreed that flags on official buildings in the municipality should fly at half-mast.
Nijar Mayor Esperanza Perez Felices read out an official declaration on behalf of the local authority stating that Jose's death indicated that "something is failing, that we have not achieved enough" in a reference to public institutions' "duty" to help protect citizens from the effects of climate change.
The sudden deluge of hailstones affected around 1,000 hectares of agricultural holdings in Nijar and badly damaged some 150 greenhouses, according to the Junta de Andalucia Agriculture regional minister Carmen Crespo.
Commenting during a visit to Campohermoso and Saladar y Leche to see the aftermath of the storm for herself, Crespo explained it could be classified as a natural disaster given that it affected more than 30 per cent of the area of Nijar used for agriculture.
The mayor went as far as saying the impact of the hailstorm had put at risk municipality's most important economic sector given it came on top of last year's autumn's highly destructive extreme weather events.