THE Guardia Civil have had to go to the rescue of several drivers trapped on secondary roads covered in snow and ice in inland areas of the province.
A number of motorists got stuck on the A-399 between Oria and Chrivel on Tuesday.
Another road which has been one of the worst affected by the wintery weather is the AL-4404 running from Aulago to Calar Alto: one driver lost control of their vehicle and ended up half on the hard shoulder.
By the time a Guardia patrol reached him he was showing signs of hyperthermia.
Officers had to use shovels and jacks to get the car off the road and leave the way clear for the possible arrival of snow ploughs, then get the driver to safety.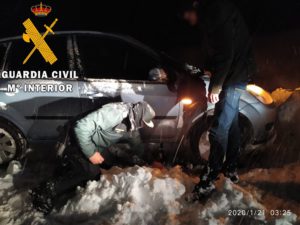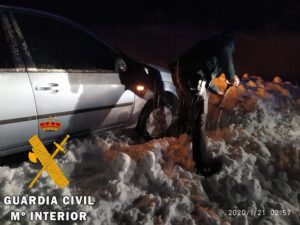 The Guardia communications centre also reported someone was trapped at the kilometre 26 mark on the same road at a height of some 2,000 metres. As the road was impassable officers were forced to tramp on foot for more than a kilometre to get to the location, where they found a driver unable to move their car and in quite a state. Again the Guardia managed to get the motorist to safety.
The Almeria Guardia Command Headquarters put out a warning reminding drivers planning to travel in snow-affected areas of the province to take care and to check the state of roads before setting out.