Mr Morgan said the criticism of Ms Markle had "nothing to do with her skin colour" and that she simply does not like negative press coverage – which he claims was weighted with positive reports.
Ms Nandy replied: "If you don't mind me saying, how on earth you would know? As someone who's never had to deal with ingrained prejudice?
"You're not in a position to understand people who have."
Ms Nandy, whose father is Indian academic Dipak Nandy who settled in the UK in the 50s, said she was a fan of Meghan and described herself as "sceptical" towards the monarchy.
Piers later tweeted "Media coverage of Meghan hasn't been racist and in fact, for much of her time in the royal limelight, it was spectacularly positive precisely BECAUSE of her ethnicity."
Mr Morgan had earlier said he was "done" and "bored" with the duke and duchess.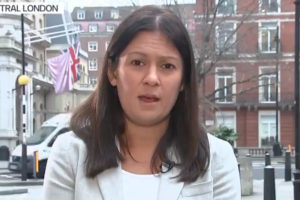 Speaking on Tuesday, he said: "I'm done with them now. I'm actually bored with them, and now she's doing her little photo-calls to the paparazzi, I'm really done with them."
The latest comments come after the Sussex's fired a legal warning shot to the media after several outlets published paparazzi shots of Meghan hiking in Canada.