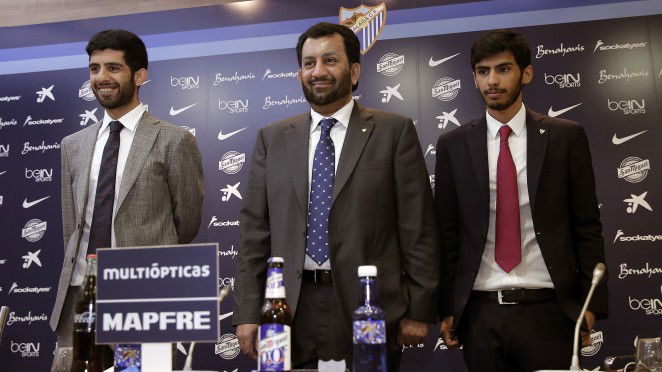 MALAGA CF is on the receiving end of some more bad luck as National Police officers entered the club's offices at 8.30 a.m. this morning to request financial documentation in an action that has been ordered by the Court of Instruction number 14 of the capital. Details of the proceedings, which the Judge of the court has ordered to be kept secret, are said to be linked to the complaint filed by an association of small shareholders of Malaga.
Officers from the Unit against Economic and Fiscal Crime (UDEF) arrived at the offices of the club, located in the Stadium of La Rosaleda, to collect the documentation requested to prove the economic viability of the club.
The investigators were accompanied by the judicial secretary of the Court of Instruction of Malaga, who has taken charge of the complaint filed by the Association of Small Shareholders (APA) against Sheikh Al-Thani and the rest of the members of the Board of Directors formed by their three children.
In the complaint, the APA accuses the Al-Thani family of the alleged crimes of "unfair administration", "misappropriation of funds" and "imposition of abusive corporate agreements". So far the judge has dismissed precautionary measures and has cited inadequate documentation provided by these shareholders, and so the complaint has been passed to the defendants to allow them to give a statement in court on February 18, 2020, from 10.15 a.m.
Police sources confirmed that the offices are being reviewed as part of a court order.