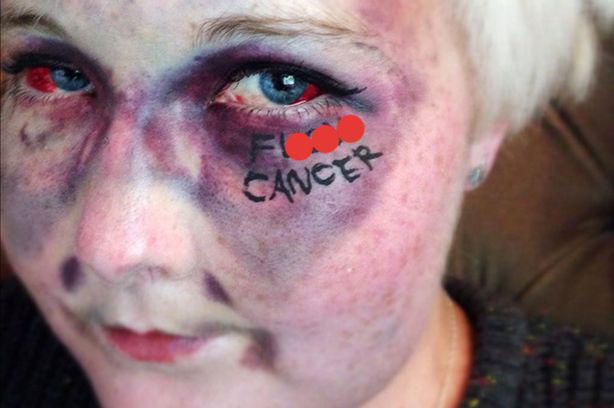 Kathryn Cartwright was an inspiration to people battling cancer when she boldly wrote 'F**K CANCER' on her face. Sadly, she has passed away after a 12 year battle, aged 28.
Kathryn was diagnosed with leukaemia when she was only 16, being told that there was an 80% chance the disease would take her life. Despite this, she was determined to make it to 30, beating the odds for many years. Unfortunately, on January 18th, she died from a liver infection – after being unwell for numerous weeks.
She marked her message for the deadly disease after experiencing a heavy fall from her wheelchair, which ultimately left her covered in severe bruises – releasing the image in 2014. She also received over 80 Valentine's Day cards in 2015, after revealing that she had never received one.
In her final interview, conducted in November, she said: "I would really like to make it to 30. All I really want to do now is get to 30 so I can hold a benefit party for myself so that I can hold a comedy gig to raise money for Anthony Nolan. I did it before in February 2018 as part of ten years since I had been in remission.
If I don't I would like my family to put the benefit party on anyway. I am sure the comedians would like to do it."
Her website announced that she died in hospital on Saturday surrounded by her family, along with a drawing of Kathryn that said 'in one of the stars I shall be living'.
The full statement read: "As many of you will have realised, Kathryn has been unwell and in hospital for some weeks. The infection in her liver returned and this time proved to be insurmountable. Kathryn died peacefully on Saturday 18 January with her family at her side."
Kathryn Cartwright was an ambassador for the Anthony Nolan charity, they have paid tribute on their website. "Many of us will remember fondly Kathryn's strong and positive attitude coupled with a dry sense of humour; a remarkable individual who shared her own story to inspire others," said Chief Executive, Henny Braund.