TUESDAY will see more snow, descending temperatures and strong winds.
According to the Spanish State Meteorological Agency (AEMET), the fierce storm is expected to move towards the north-west of Spain today and the bad weather is unlikely to subside before Wednesday.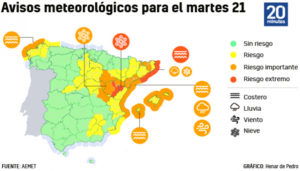 Storm Gloria persists and almost forty provinces remain on alert today, with seven areas in red alert due to extreme risk, with "heavy rain and strong winds" through the Balearics and into the eastern mainland of Spain and "some snow in the mountains" as well.
More wet and windy weather is expected throughout the day which is expected to weaken in the next few days.
The State Agency of Meteorology (Aemet) forecasts for this Tuesday that storm Gloria storm will continue to lash the country, leaving snow in the Iberian and eastern Pyrenees system, with snow expected below 500 meters in the centre and northwest areas, in addition to rainfall and strong winds in various parts of the country.
Abundant rainfall is expected today, Tuesday, in the Balearic Islands and locally heavy or persistent in Catalonia, Valencia and Aragon.
21/01 06:03 #AEMET actualiza #FMA en C. Valenciana. Activos hoy y mañana. Nivel máx rojo. Imagen del mapa de avisos en vigor a las 06:03 . Para ver una tabla de avisos actualizada haga CLIC EN LA IMAGEN o visite https://t.co/AYiOumkrBU https://t.co/561dRAvTMg




— AEMET (@AEMET_Esp) January 21, 2020
Reports have just reached the Euro Weekly News desk that in Madrid, the suburban trains from Villalba to Pitis-Chamartín (C3, C8 and C10) are severely delayed due to a tree falling on the tracks. Cercanías expects to have the train traffic completely restored by eight o'clock in the morning.
Firefighters in Catalonia have received a total of 2,277 warnings since the start of the storm Gloria, most of them in the north of the region.
The AP-7 highway between Figueras and the French border is closed to traffic.
A total of 220,000 residents in Girona faced an electricity cut due to a high-voltage breakdown in the power grid as a result to adverse weather conditions. Civil Protection informed via Twitter that it is already working in coordination with Endesa to recover the service.