#TemporalÀPunt | Imatges espectaculars de Calp, a la Marina Alta. Les ones s'engulen la platja i el port de les Bassetes. Emergències recomana no acostar-se a passejos marítims, espigons o penya-segats, ja que la força de l'aigua pot arrossegar-nos.

Geplaatst door À Punt NTC op Maandag 20 januari 2020



Credit: Facebook A Punt NTC
Footage shows the waves battering the port area at Calpe. The area of torrential rain has been accompanied by lightning and thunder.
Authorities are issuing warnings for people NOT to approach the coast in the north of Alicante province today (Monday).
Torrevieja's iconic images – the woman on the bench looking out to sea- has been met by the angry Mediterranean which has battered it with swirling waves.
The statue stands on the rocks just off Paseo Juan Aparicio and is one of the most famous sculptures in the whole of the region, the Monumento a la Mujer del Pescador, a lonely lady looking wistfully out to sea, and quietly overlooking the rocky setting of Cala del Moro.
Today however she does not sit "quietly overlooking the rocky setting" rather battles the force of Storm Gloria which is wreaking havoc on the Costa Blanca with large swathes of coastline being smashed by the heavy seas.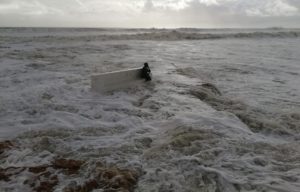 In other areas, La Mata/Guardamar, the wooden promenade has been destroyed as the storm continues to rip along the coast with people advised to stay away from the sea and not to make unnecessary car journeys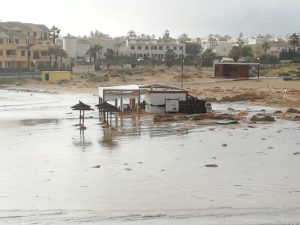 Residents have shared their concern on Facebook at the devastating images:
Christine Jones "Such a shame"
Gloria Briggs "Omg, that's so so terrible"
Further reports have reached the Euro Weekly News desk that the Sea has also destroyed part of the promenade in Dénia and is flooding streets on the coast.
According to Alicante university climatology lab, weather data indicate that the sea storm is one of the worst in the last 100 years.
There is also deep snow in the Alicante province, with the north of Alicante province still on red alert for snow today (Monday), around half a metre has fallen in Banyeres de Mariola and other areas of the interior of the province.
The north of the province and interior are on red alert for snow until noon, when the level drops to orange for the remainder of today (Monday). These areas are also on alert for torrential rain all day.