More than 15,000 people joined the protests in Orihuela against the new law that will demand the use of Valencian in all classrooms in the region. In other locations of the Valencian Community, the demonstrations were also favourable, as protesters took to the streets in droves.
The fight against the linguistic law of Ximo Puig -leader of the Socialist government in the community- was an outright success. Following the massive response, opposing politicians are hopeful that president of the Generalitat will agree to a new law.
Protesters defended the right of their children to 'study in their chosen language. Especially Spanish, as it is the mother language of many students.' The approved Law of Multilingualism would be implemented first in Primary schools and extended to all levels of education in 2021.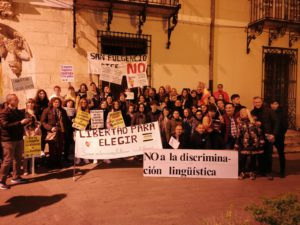 Parents and political leaders headed the demonstrations, as they demanded a free education as recognised by the Spanish Constitution. They also highlighted that there is no country where children cannot receive education in their mother language, especially is it's the official language of the State.
Organisers of the protest warned against the discrimination and spoke about possible academic failure. They argued that Spanish is among the most important languages on the planet and defended the importance of family decisions.
In response, Ximo Puig assured that the Law of Multilingualism is an open proposal that has a simple objective: that Valencian children learn Spanish, Valencian and English by the end of their education.