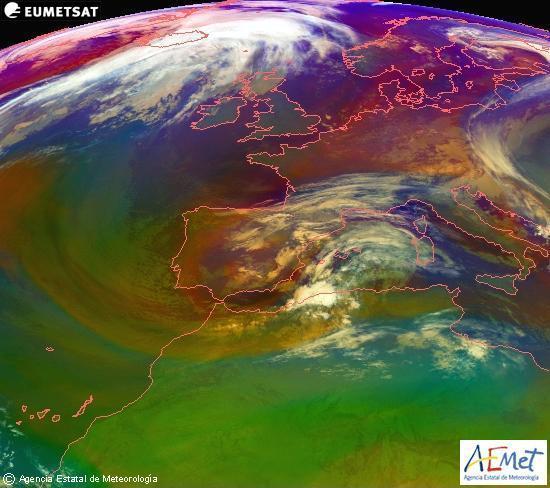 SPAIN has been hit by a freak snow blizzard that is expected to last until tomorrow (Tuesday), in what could be the "most intense" snowfall to strike the country on record.
The unusual weather has triggered a terrifying and rare red weather alert in Spain, amid warnings for snow, freezing temperatures, rain and high winds. Storm Gloria will continue throughout today, Monday, and tomorrow leaving strong winds and rain throughout the peninsula, with special strength in the Mediterranean arc.
Storm Gloria continues to rip through Spain leaving a trail of destruction in its wake and has already claimed it's first mortal victim. The accident took place on the Asturian side of the Puerto de San Isidro (León), when a 44-year-old man was run over by a vehicle while putting snow chains on his car.
Tragically he was struck by a van who had lost control due to the sheer amount of snow that had accumulated on the road, impacting against the man who was at that time crouched down beside his car.
There was also an incident in Teruel where members of the Provincial Council had to assist two women who had been stuck in the snow inside their vehicle.
Today, Monday, will be a day of low temperatures and winds of 120 km/hour. With RED alerts issued in several areas including: Valencia, Murcia and Aragon. The Balearic Islands will suffer heavy rains and there will be strong waves along the coast.
It's been predicted that over two meters of snow have been dumped across the Iberian peninsula with more to come unleashing the "most intense" snowfall recorded in Spain for years.
Spain will continue to see heavy snowfall, icy cold temperatures, rain and a strong sea storm with waves reaching more than seven metres as Storm Gloria continues to lash across Spain with strong gusts of wind and intense rain, especially along the Mediterranean coast, Aragon and the north of the peninsula.
Today, Monday, the red alert will continue in the Balearic Islands and the Valencian Community and will be extended to Aragon and Catalonia.
The worst affected region is likely to be the Balearic Islands, where Mallorca will be hit by 120 litres of rainfall in just 12 hours.
This has prompted Mallorca to make emergency plans for severe floods. Already the Balearic Islands has recorded a total of 38 incidents by the passage of storm Gloria.
Mallorca taking the brunt reporting over 28 serious incidents.
*CLASSES SUSPENDED IN VALENCIA: Several cities and municipalities in the Comunitat Valenciana have announced the suspension of classes for today, Monday, due to Storm Gloria. This is the case of Cullera, Gandia, Sueca (Valencia), Dénia, Xàbia, Alcoi, Ibi (Alicante), Vilafranca and Castellfort (Castellón), among others.
*Check with local authorities to confirm.
On more than thirty roads in Cantabria, Asturias, Navarra, Castellon, Almeria, Teruel, Avila, Granada and Salamanca, the movement of buses, coaches and trucks have been prohibited due to the adverse weather conditions,
40 HIGHWAYS AFFECTED : Storm Gloria is complicating the circulation on more than 40 roads. Important roads cut off by the storm Gloria, according to the DGT: Navarra (NA-2012 and NA-2011), Barcelona (BV-4024), (CV-121, CV-126 and CV-111), Granada (A-4025, A-395 and A-337) and Teruel (A-2705).
SPECIAL UPDATE:

Storm Gloria/92M is continuing to develop. Manual analysis suggests that 92M is a hybrid cyclone, and advisories will likely begin on Severe Medistorm Athena at 00:00 UTC. #medicane #MedicaneAthena #weather #BorrascaGloria #Europe #Spain #Algeria #Morocco #Africa pic.twitter.com/090PSSNJn9

— Mediterranean Cyclone Centre (@Medicane_Centre) January 19, 2020