Brad Pitt and Jennifer Aniston, who were married from 2000 to 2005, shared the SAG Awards stage. Pitt joked about his failed marriages during his acceptance.
Jennifer Aniston, who was her usual lovable self, won outstanding performance by a female actor in a drama series at the SAG Awards on Sunday.
After taking home the special honour, The Morning Show actress looked adorably flustered as she made her way to the stage. Not only was the award one of the first big wins for the Apple TV+ series this award season, but it also marked Aniston's first SAG win in over two decades.
She previously took home outstanding performance by an ensemble in a comedy series in 1996 for Friends. In addition to getting support from her costar Reese Witherspoon in the audience, Aniston's ex Brad Pitt was spotted proudly watching her speech backstage. See more photos of Aniston's win ahead.
Brad Pitt won the SAG Award for best performance by a male actor in a supporting role on Sunday night for his portrayal of stuntman Cliff Booth in Once Upon a Time In Hollywood.
The actor prevailed over fellow nominees Jamie Foxx (Just Mercy), Tom Hanks (A Beautiful Day in the Neighborhood), Al Pacino (The Irishman) and Joe Pesci (The Irishman).
"I've got to add this to my Tinder profile," Pitt joked at the start of his speech, referring to the statuette.
The actor, who also was nominated with the entire Once Upon a Time ensemble for outstanding performance by a cast in a motion picture, continued by thanking his fellow actors. "Thank you, my brothers, my sisters. This means so much, more than I can possibly fathom," he said. "I want you to know I watch everything. I watch you all and the work has been mesmerizing."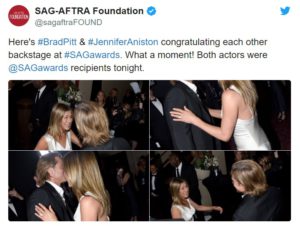 Game of Thrones' Peter Dinklage won the actor for Outstanding Performance by a Male Actor in a Drama Series at the 2020 Screen Actors Guild Awards Sunday night. This is his sixth nomination and first win in the category.
"I would like to thank the people of Northern Ireland who put up with us for nine years, and then I would also like to thank everyone at table nine and 10 and beyond over there because we put up with each other for 9 years," said Dinklage in his acceptance speech. "Finally and most importantly, I'd like to thank my wife who put up with me for more than nine years, but lived in a place far away from home but made it home because we were together."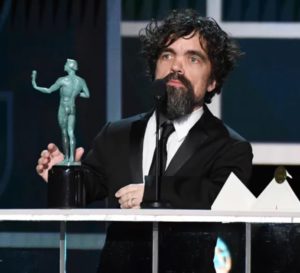 Phoebe Waller-Bridge wins best female actor in a comedy for Fleabag
The Crown also takes home outstanding performance by an ensemble in a drama series in one of the final awards shows before the Oscars.
The creator and star of Fleabag took home yet another prize for her work on the acclaimed comedy's second season, adding to her Golden Globes, Critics' Choice awards and Emmy wins.