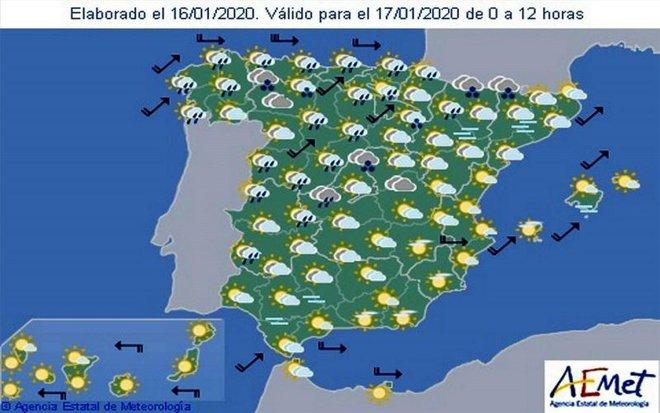 SPAIN'S meteorological agency issued warnings for 24 provinces across nine regions in Spain earlier on in the week warning of plummeting temperatures, fierce winds and big waves.
After battering the UK and northern Europe with rain and gales Storm Brendan is sweeping south leaving a trail of destruction in its wake, trees uprooted, flights cancelled and power lines down.
Temperatures have plunged below freezing in many parts of Northern Spain with areas of Aragon dropping below -8C and Cuenca recorded as the coldest place in Spain at -10C.
Orange alerts have been issued for parts of Galicia where waves expected to reach up to 7 metres and wind speeds over 100kmph
A tweet from Spain's meteorological agency shows an animated image of the PPI reflectivity (precipitation intensity) of the radar composition
Animación de imágenes de las últimas 6 horas, del producto reflectividad del PPI de la composición de radares https://t.co/ti1Tx3LVSz pic.twitter.com/kuz5hLOP4e

— AEMET (@AEMET_Esp) January 16, 2020



The State Meteorological Agency (Aemet) is forecasting today, Friday, rainfall in the north-western half of the country, in addition to further general decline in temperatures, except on Mediterranean shores, where it may rise slightly.
Rains are expected to affect parts of the Atlantic and the north-east of the peninsula. The showers will tend to diminish throughout the day as the clouds open up leading to clearer skies in the Mediterranean communities and in the Balearic Islands.
Snow levels will be between 1,000 and 1,300 metres and will fall to 800 and 1,000 metres in the Cantabrian region; it will range from 1,600 and 1,800 metres to 1,200 and 1,500 metres in Central and Iberia and will go from 1,600 and 1,800 metres to 800 and 1,000 metres in the Pyrenees.