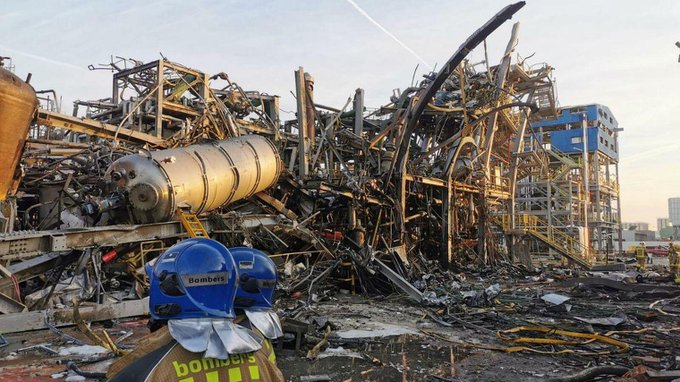 THE Catalan Industrial Plant Inspection Department have revealed yesterday (Thursday), according to 20minutes, that IQOXE, the company where an explosion was registered at 18.38 on Tuesday in an ethylene oxide tank, had been sanctioned FOUR times in recent years, with fines ranging from 2,000 to 8,000 euros, for various breaches of regulations.
The Minister of Labour, Social Affairs and Families of the Generalitat, Chakir El Homrani, has assured that the Labour Inspectorate will go "all the way to clarify the causes and responsibilities of a very serious accident", which has caused three deaths and seven injured.
El Homrani specified that of the four cases that led to sanctions, one was imposed for working conditions and the other three for non-compliance with health and safety regulations.
The Minister of Labour also explained that the Labour Inspectorate of the Government of Catalonia has opened two investigation files on the chemical company IQOXE after the explosion. El Homrani explained that the department activated the On-Call Labour Inspectorate just as the explosion occurred, although the Inspectorate specialists have not been able to gain access to the company because its facilities are confined until the emergency corps has finished its intervention and certified that access is safe.
He acknowledged that the process will be "long and complex" due to the state of the IQOXE facilities, although he warned that the causes and responsibilities will eventually be known and if irregularities are detected "a very serious sanction" would be imposed.
On the other hand, the Prosecutor's Office of Tarragona is waiting for the reports being prepared by the Mossos d'Esquadra and Labour Inspectorate to determine whether the deaths caused by the explosion may constitute at least two crimes of negligent homicide. Whether the occupational safety measures taken were adequate.
Likewise, the Federation of Industry of the USOC trade union has demanded the revision of the action and communication protocols of the petrochemical industry, which has already revealed "some deficiencies" in the application and in the activation of the alarms. This is in view of the risk of a toxic cloud as well as the risk of falling objects with the obvious risk that this represents for workers and the population.
More than 3,000 people in Tarragona protested last night against the management of the explosion that has caused three deaths.