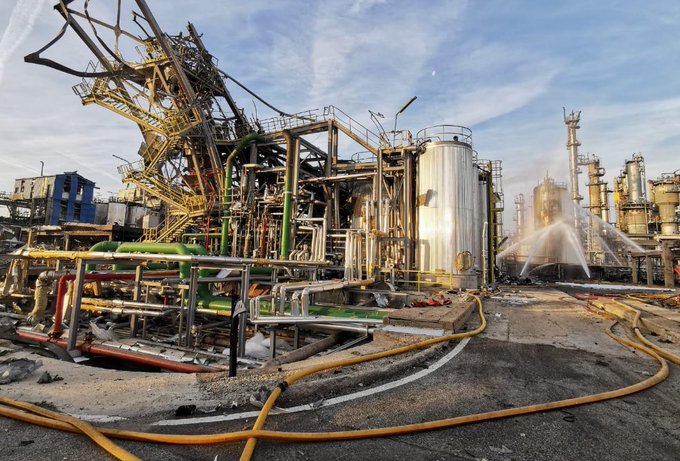 THE first recorded fatality of the blast from the chemical plant in Spain was Sergio, who lived on the second-floor of an apartment block over 2km away.
The death of the 59-year-old initially confused authorities as they struggled to understand how the wall of a building over 2 km away from the chemical plant could collapse and yet none of the other surrounding buildings were affected.
Agents from Guardia Urbana de Tarragona were seen searching Sergio's apartment block for signs of a projectile, while municipal architects are reportedly investigating structural damages.
It has now been revealed, according to reports by El Pais, that it was metallic "plate" which shot across 2.54 km which killed the first victim of the Tarragona explosion in Spain.
Residents told El Pais they had witnessed a 'ball of fire' cross the sky. Antonia Mora, a neighbour on the first floor, who ran out into the street thinking it was a gas explosion revealed how she thought it was a "bomb" whilst others said how they saw an 'orange-coloured ball' fly over the patio and smash into the wall of the complex.
The 'ball of fire' was a reactor cap that shot out of the chemical plant due to the force of the explosion and struck the apartment on the third floor of the Garcia Lorca block with deadly force, provoking the floor to collapse and debris to fall on the apartment below, where the victim was located.
Reconstruction of the reactor cap, as informed by El Pais, describes the trajectory as follows:
"After the explosion in the ethylene oxide tank, the reactor cap came off. The metallic plate, measuring 122 centimetres by 165 and weighing one ton, shot across more than two and a half kilometres until it hit the building in the Torreforta neighbourhood where the deceased lived."
Authorities have explained that the explosion was very powerful and the metallic piece came out like a "champagne cork." The City Council has decreed two days of mourning.
Three people have died from the explosion registered at 18.38 on Tuesday in an ethylene oxide tank of the chemical company IQOXE. The accident, in which seven people were also injured, took place in the southern petrochemical area of Tarragona.
The second fatality was a plant manager, who was working at the time of the explosion. He was found by the fire department under the remains of the collapsed structure. The third victim, another worker, died in hospital from severe burns.
The plant is the only producer of ethylene oxide in Spain.