RECENT downpours in Australia have already helped to extinguish 32 bushfires in New South Wales aiding the number of blazes to fall from 120 to 88 as reported early this morning (Thursday) by the NSW Rural Fire Service.
Between today (Thursday) and Sunday, the Bureau of Meteorology expects between another 30 and 80mm of rain in the east of NSW.
This expected "rain bomb" is hoped to help finally put an end to the horror blazes that have swept through an estimated 18.6 million hectares and bring much needed relief to the exhausted firefighters after months of battling ferocious blazes.
A total of 29 people have died in the horror blazes and more than 5,900 buildings including 2,000 homes have been destroyed and an estimated one billion animals have also been killed and some endangered species may be driven to extinction.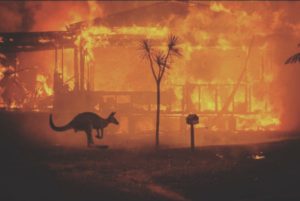 Storms rolled into Melbourne on Wednesday afternoon and slashed Sydney on Thursday morning, after a low pressure system swept across the east and is the area's first significant rainfall in months, as the country continues to battle a deadly bushfire season.
Sky News Weather chief meteorologist Tom Saunders said: 'By Monday, a cut-off low pressure system will bring widespread heavy rain.'
'Showers and storms will start to increase over Queensland, New South Wales and Victoria from Wednesday and continue to effect parts of eastern Australia each day, until at least early each next week.'
Between 20mm and 40mm is also forecast in the ACT and the west of NSW where farmers have endured drought for three years.
Greater Sydney – including areas hit by bushfires – is forecast to get 3-8mm on Thursday, 8-20mm on Friday and 8-26mm on Saturday.
However, it's expected that winds of up to 133 kmh will accompany the rains and there are concerns that the thunderstorms could bring more bushfire trouble. With the threat of lightning that might ignite other fires and damaging winds which may carry large hail and heavy rainfall leading to flash flooding.
According to The Daily Mail, Bureau of Meteorology senior meteorologist Kevin Parkyn informed that thunderstorms can be "a bit of a two-edged sword." Explaining that while they can bring some "much useful rain," the rain may also come down "in fast, high quantities" which may lead to "mudslides developing" there is the added concern that debris such as soil, trees and rocks could make their way to the waterways from the fire landscape.
NSW SES (New South Wales State Emergency Service) assistant commissioner Paul Bailey also informed, as reported by The Daily Mail, that residents in fire affected areas needed to keep an eye out for possible landslips and be aware of the dangers as the ground and roads can be damaged, therefore creating a higher risk of a "potential slip."
The SES further warned residents to prepare their properties by trimming overhanging branches, cleaning gutters and pipes, securing loose items in their backyards, and not parking under trees or power lines.
The current bushfires have been regarded by the NSW Rural Fire Service as the worst bushfire season in memory for that state, however the 1974 bushfires were nationally much larger, consuming 117 million hectares.