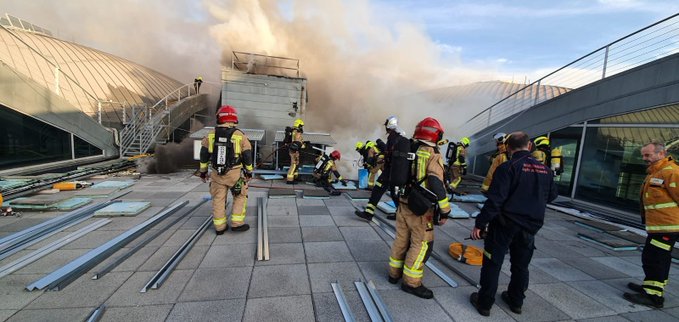 ALICANTE airport was evacuated yesterday after a fire broke out on the roof of the terminal.
Airport operator Aena tweeted: "For security reasons the airport terminal is being evacuated away from Alicante-Elche due to a fire on the deck."
It later said that firefighters had the blaze under control and the airport was being ventilated.
As reported previously by Euro Weekly News the fire broke out yesterday (Wednesday) just after 2 p.m., According to a provisional balance, the fire resulted in the cancellation of 35 flights – 14 departures and 21 arrivals -, the eviction of 2,000 people between passengers and staff and a shutdown of air traffic for at least a day. However latest reports that have reached the Euro Weekly News desk is that the airport will remain closed to air traffic until at least 12 noon today.
The work of the firemen has been prolonged for hours with the troops divided in several teams to be able to attack the flames from different fronts. Using foam to be able to seal the fire and water from different angles in order to prevent it from spreading other areas.
The flames were initially visible from inside the passenger terminal before the evacuation and the Generalitat activated situation 2 of the Exterior Emergency Plan and the air navigation manager Enaire.
Airport sources have told Efe that a crisis cabinet has been set up and there is a meeting expected today at 8am to follow up on the extinguishing work and determine whether to open the runways at 12pm today, Thursday, or whether to delay opening further.
Fortunately, no personal injuries have been reported, according to Aeropuertos Españoles y Navegación Aérea (AENA). However the cause of the fire is not yet known.
Footage from eyewitnesses shared on social media shows plumes of smoke billowing from the terminal roof visible for several kilometres around.
A team of forty firemen have worked throughout the night to stop the fire on the deck of the boarding area, which has been extended to the VIP area.
The Costa Blanca airport is the fifth-busiest in Spain. Last year, 15 million passengers passed through the airport – with many of them from the UK.
The city and wider Costa Blanca region is a popular holiday spot for Britons.
#bomberos #Alicante incendio aeropuerto pic.twitter.com/VDj5EfAZpM

— Csif bomberos alicante (@AlicanteCsif) January 15, 2020